If you have been searching for a vape without any nicotine, then you've found the right place. In our years, we've been honored to test a variety of products.
As such, our experience guides us to the best. That way, by using our guides, you'll avoid the worst. In effect, we've taken care of the hard part for you. Now, you get to enjoy all those benefits.

So, how can you use a vape without any nicotine?
This Year's Top Vapes With No Nicotine
Ultimately, any vape on the market could be used without any nicotine. Since the vapes are merely hardware, none of them have any nicotine. Thus, if you'd like to use them without ingesting any, you'd need to select the right E Juice. As long as it doesn't have any nicotine, then you'll be good to go. In this way, vaping isn't a mere replacement for cigarettes. It is a new hobby all on its own.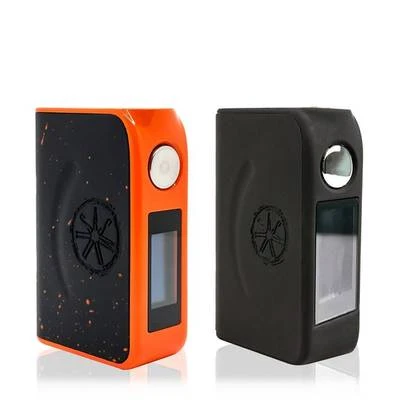 Minikin Reborn Box Mod - Asmodus
From time to time, something catches our eye. In this instance, it seems as if our intuitions have paid off. So, why don't you try it out? If not, we can do our best to lend a description. With other vapes, you've been limited from the very beginning.

On the other hand, with this device, each experience is custom. Thus, for those who prefer personalized products, nothing satisfies such cravings as well.

In the end, you'll be the one who renders their judgment. Still, in the meantime, you'll have to excuse us. This vape is simply phenomenal. To us, its wide range of options would be among the most notable features.
Product Specifications
-Wattage Output Range: 5-168W
-Max Voltage Output: 7.5V
-Temperature Range: 212-572F
-Atomizer Min Resistance: 0.1ohm
Pros
-Wide Range of Wattage:
On some occasions, vapes ought to produce high watts. In this way, you can vaporize even the thickest juices. Contrasted against other competitors, this vape stands out from the pack. Since it has such a wide range of watts, it'll work perfectly for any juice. Of course, you'll still have to find a favorite. Regardless, with this in hand, you'll be ready once you do.
-Stable Temperatures:
Besides, other vapes are inconsistent. In contrast, these temperatures hardly fluctuate. Unless you adjust the setting manually, they'll never drift from where you set them. In other words, once you discover the perfect temperature, such perfection isn't hard to find. As soon as you turn on the device, it'll be set and ready.
Low Resistance:
Not to mention, these resistance levels are among the industry's lowest. So, if you'd like to vape some super viscous juice, you'll have more than enough current for that job. Plus, you'll be the one who is in control. To put it differently, you'll be the operator of this ride.
Cons
-Coils Might Burn
-Not Waterproof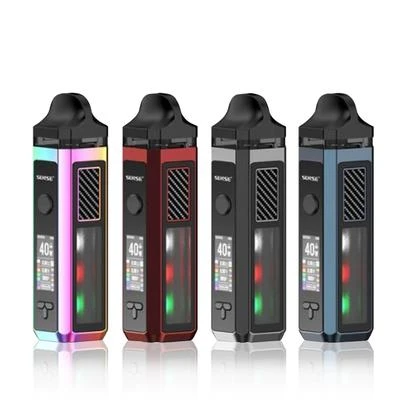 Herakles 40W Pod Mod Kit - Sense
You'll find certain vapes deliver on their promises. However, depending on the manufacturer, that is not always the case.

Fortunately, in this instance, those worries remain unfounded. Instead, once you set up the device, it will perform as advertised. So, with that being said, how much more could you want? In our opinion, it would be difficult to top those claims.

On the other hand, thanks to its extensive battery life, you'll rarely encounter dead zones. As long as you plug up by the end of the night, it'll last the entire day. Thus, long vacations aren't such an annoyance anymore.
Product Specifications
-Built-in Battery Capacity: 1500mAh
-Output Wattage Range: 5W - 40W
-Input Voltage: 3.3V - 4.2V
-0.96 inch TFT Display
Pros
Rechargable:
After using the vape for a little while, you'll need to be charged. Otherwise, it won't keep going. For the most part, charging tends to be something at the back of the mind. However, in our experience, that is mostly because of the time commitment. By using something like this, those commitments shrink. Therefore, after plugging in the device, it doesn't take long to charge. Within a few moments, you'll be ready to get moving.
Easy-to-Read Display:
Plus, on top of its rechargeable battery, there is also an easy-to-read display. Since it shows you everything, you'll never be left in the dark. Strategically placed on the front, it's among the most prominent pieces of the vape. So, after powering everything on, it'll light up the room. Besides, since the font is so large, even those who struggle to read shouldn't have an issue.
-Customize Your Experience:
Occasionally, people enjoy stronger hits. Then, once the mood shifts, they will want something a little less powerful. For us, this device's variability provides something few competitors can claim. When you'd like the vape to hit powerfully, then adjust the settings to an appropriate level. Afterward, you can change them to something else. By following those procedures, each time you use the vape will be as enjoyable as the last.
Cons
-Not the Most Affordable
-Limited Color Selection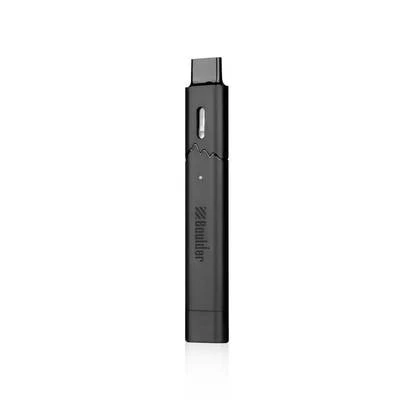 Rock Pod Mod System - Boulder International
Perhaps, you'd rather pick up something discrete. Since vaping isn't always hidden easily, you'll have to select an appropriate device. In those circumstances, we suggest something like this. After seeing it in action, it's an easy recommendation to make.

On the one hand, you've got a reliable vaporizer without too many frills. Built by design, this vaporizer hides more beneath the surface than you would imagine. With such a sleek chassis, slipping it into your pocket isn't all that challenging. Once you're ready to take a puff, just pull it out.

Thankfully, it's not all that large. So, even in a crowded room, people won't notice. Until you've seen something this subtle, such claims are tough to take without any hesitation. Still, once you've seen this in person, it's rather self-explanatory. Not to mention, with replaceable pods, burnt coils aren't a lingering challenge. Instead, once it's time to replace those coils, it's a relatively straightforward process.
Product Specifications
-Refillable clearomizer
-High-quality food grade steel construction
-360 mAh battery
-Compact design
Pros
Replaceable Pod System:
Other pod systems force you to refill them. After a little while, those coils tend to be burned. So, in the end, you'll need new ones regardless. If you had asked us, then we would say that it seems as if it's adding a step to the process. Instead, with one of these, you'll replace the pods after they run dry. In that way, your hits won't taste as if they were burnt on any occasion.
Quick-Charging Battery:
Following those same lines, these batteries are among the fastest charging we've encountered. So, for those who don't enjoy wasting time, such batteries are a boon. Instead of relaxing next to an outlet, you'll be on the road in no time. Batteries no longer force you to remain at home. Even if they are not charged, they'll be back in action within mere moments. Before long, you'll be alongside them.
Discrete and Portable:
Above all, in our experience, discreteness commands a premium. For the most part, vaporizers aren't something people keep hidden. However, under certain circumstances, such attributes would be a welcome advantage. To us, it's tough to top these for those purposes. Fortunately, with its sleek design, keeping it out of sight isn't that much of a challenge.
Cons
-Easy to Lose
-Not the Greatest Battery Life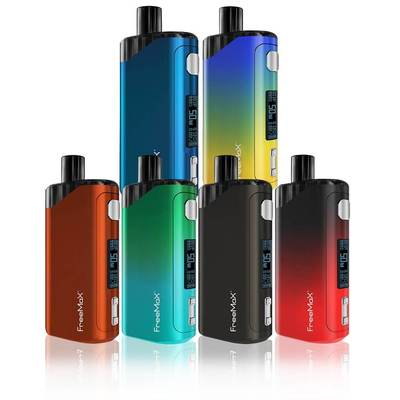 Autopod50 50W Pod Mod Kit - Freemax
Next, we've got another pod kit. Except, this time, it's got even more to offer. For example, suppose you would like something that lasted a long time. Without recharging it, you would need something with an extensive battery.

Luckily, in this instance, such expectations are met unwaveringly. Since this vape's batteries are so large, you'll go hours without noticing them drain. With other devices, you'd be plugging it in within no time at all.

For us, that's a dealbreaker. Steadied by nerves, we tested this under the best circumstances. As a result, we've got nothing but great things to say about its battery. However, beyond that, those ponds are among the largest on the market.

As such, you'll rarely refill them. If you would rather use devices with large tanks, this should meet those needs. As long as you remember to fill them in the morning, running dry before the day's end shouldn't be a thing.
Product Specifications
-Output wattage: 5-50W
-Output voltage: 0.7-7.5V
-Battery: integrated 2000mAh
-Pod capacity: 4ml
-Coil resistance: 0.25ohm/0.5ohm
Pros
Built-In Battery:
Sometimes, losing a battery derails your night. However, by using this device, such issues won't pose a threat. Since the battery is part of the device, you'll never lose it. Unless the entire thing disappears, it'll be right by your side. Thus, scrounging for spare parts won't occupy your time.
High-Capacity Pod:
On some occasions, pods seem to bleed through their juice. If you happen to have a strong habit, then you may notice something like this. Fortunately, with pods as large as these, you'll hardly encounter such dilemmas. Instead, those pods might need a refill once every morning. So, if you'd love to eliminate mid-day stops, this might do the trick. At least, for us, it cut the mustard
Variable Resistance Coils:
Most of the time, resistance levels aren't at the front of your mind. Since you'll only use them when switching juices, those features aren't the most prominent. Still, by using something like this, you'll have the option. That way, from time to time, you can try something new. Plus, despite such experimentation, those hits will hit just as clean.
Cons
-Buttons Might Stick
-Replacements Aren't Cheap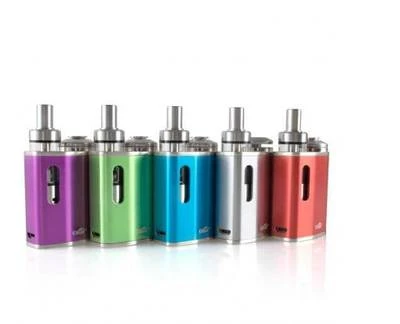 Eleaf Istick Pico Baby 25W Kit - Eleaf
Now, for those who prefer something environmentally friendly, you might want to take a look at this. Compared to other products, these seem as if they care about the planet much more.

So, unless you've got reasons to avoid them, we'd say they are more than worthwhile. For that matter, you'll hardly notice a difference to other options.

Besides, with such great hits, what could you complain about? To us, it seems like a pretty straightforward decision.
Product Specifications
-Tank diameter: 16.5mm
-Weight: 112.8g
-E-liquid capacity: 2ml
-Battery capacity: 1050mAh
-Output wattage: 25W max
-Resistance range: 0.4Ω-3.0Ω
Pros
Not Overly Bulky:
On those rare occasions, you've got to have something lightweight to carry. If those circumstances happen to be your own, then we'd say this might meet the moment. In other words, you'll have a tough time finding something smaller. At least, if you happen across a smaller item, it won't perform as well as this. For its size, this would be the reigning champion.
Decent Tank Capacity:
Plus, in addition to those features, your tank should provide ample room. With 2ml of capacity, sloshing juice into the hole won't challenge you all that much. Anyway, by refilling it in the morning, you'll be flush with juice until the evening.
Premium Aesthetics:
Not to mention, such designs are eye-catching, to say the least. If you've been searching for something to make a statement, then this would be an appropriate option. For us, that would be among its most delightful aspects.
Cons
-Could Be More Durable
-Warrant Could Use Some Improvements