The new PACT Act regulations have gone into effect, meaning vape retailers have even more stringent rules to deal with to conduct their business legally. Many see these new regulations as the end of online vape retailing, and with good reason.
The United States Postal Service will cease handling all business-to-consumer (B2C) deliveries of vaping and vaping-related products.
Private carriers like FedEx and UPS have also backed out of the vape delivery market, citing the new complicated measures.
These developments seem insurmountable, but there are ways to get around them, according to many legal and regulatory experts. Here are some of the ways you can get through the PACT act if you are a vape retailer.
The Story Behind the PACT Act
The PACT Act has a long history, one that predates e-cigarettes. The Prevent All Cigarette Trafficking Act of 2010 was an outgrowth from the even earlier Jenkins Act of 1949 that sought to prevent interstate cigarette smuggling and tax evasion. The new regulations to the PACT Act were introduced to counter the proliferation of the e-cigarette industry in the US.
The amendments to the PACT Act were voted into law in the winter of 2020. They included the following changes:
·Prohibiting the United States Postal Service from delivering any cigarette or smokeless tobacco products (including e-cigarettes)
·Requiring all cigarette and smokeless tobacco product retailers from registering with the Bureau of Alcohol, Tobacco, and Firearms as well as state tax authorities

·Requiring that all deliveries of tobacco products be finalized with the recipient presenting photo identification and signing for the package

·Maintaining records of all tobacco product sales and deliveries

·Imposing new labeling requirements on all tobacco and electronic nicotine products
With the ATF now policing the vape retail industry, anyone who does not comply with the new regulations will be placed on a non-compliance list and have their license revoked. But apart from the enforcement side of these regulations, retailers must also deal with their businesses losing vital delivery partners like the USPS and private carriers like UPS and FedEx.
But a few legal experts have discovered that the PACT Act also presents an opportunity for savvy businesses to thrive. They have outlined some of the ways that vape retailers can navigate the new laws without breaking them.
The Ways to Survive the PACT Act-Era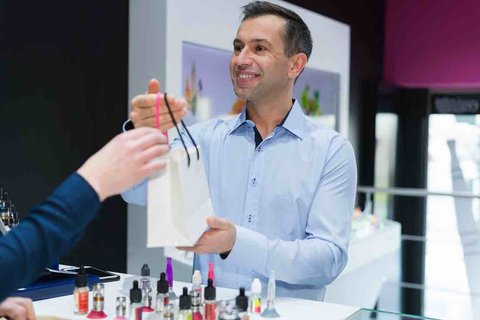 Some legal experts have put forward some ways that vape businesses can make it through the new PACT Act regulations.
Business-to-Business Shipping
The new amendments to the PACT Act prohibit businesses from shipping directly to customers via the United States Postal Service. But there is a loophole that allows companies to ship to other businesses without complying with the new law's strict mailing requirements. This means that vape retailers would have to band together to create these shipping networks.
There is a catch, however. Vape businesses who wish to ship directly to other vape businesses using the USPS must apply for an exemption from the USPS. Once the Postal Service has cleared them, the retailers can ship products bought online to other states or the same state so customers can pick them up there.
Find New Shipping Options
Apart from applying for the USPS, business-to-business exemption, vape retailers would do well to find alternative shipping partners outside of the big three – UPS, FedEx, and DHL – all of whom have backed out of making vape deliveries. Freight Right and smaller regional carriers can step in for the absence of the larger carriers, although that might mean shipping costs may go up.
Short-Term Losses, Long-Term Gains
While these regulations may indeed have their intended effect of paralyzing the online vape retail business, it is essential to remember that where some companies fail, others will thrive. The thinning out of the market will mean that those companies that can weather these new regulations will increase their market share and drive up profits in the long run. But these benefits will not come without some sacrifice.
Vape retailers should not be afraid to increase their spending or overhead to meet these new regulations. Doing so will give them the breathing room to survive the worst of these regulations, as well as during pandemic shutdowns, while those who refuse to absorb the cost of these new rules will go under.
Build Local Networks
Using other vape businesses as a delivery service is not the only reason why vape retailers should grow their networks. More cooperation between vape businesses – from the retail, manufacturing, and distribution sectors — should help these "vape cooperatives" from singularly absorbing the costs of doing business.
The fact that most vape products are manufactured in China could be an obstacle that is overcome by collectively investing in new manufacturing sites in the US. Vape retailers could partner with more significant concerns that have an interest in creating viable distribution and retail networks (like cannabis producers and retailers in legal states) that serve everyone involved.
This may also be the time to increase your presence in the local community. Creating a space where local customers can congregate and vape – once local indoors retail restrictions are lifted – is another way to spread the word about vaping and building the networks needed to survive the PACT Act regulations.
Getting Through the Worst of It
While the intended purpose of the PACT Act is to strangle the vape industry into submission slowly, there are ways for intelligent retailers to survive. Instead of thinking of these regulations as money-wasting, government over-regulation (which they are), think of them as investments in the future of your business.
Don't let the federal government put you out of business when you have a fighting chance to use the market against them. Invest smartly in new manufacturing ventures, apply for credit or loans to stay afloat, expand your business-to-business networks and absorb the costs of these new regulations to beat the government at their own game.