Halloween means a lot of different things for a lot of different people, but this holiday certainly represents all things unexpected. So, whether you're in it for the Trick or Treat chocolate and sweets, or for the chills and thrills there's something for everyone in this spooky season.

Halloween season is known for all things spooky. On the 31st of October Halloween will be taking the world by storm for one evening where people can unleash their innermost fantasies and enjoy all of the good stuff associated with Halloween.

If you're no longer trick or treating, but don't want to miss out on the Halloween festivities, prepare to be spooked! We will be offering some exciting deals and suggesting some amazing flavours help you get the best all rounded experience out of the day, whether you're out on the streets, at a spooky party, or cuddled up watching your favourite horror classic we have selected 5 amazing Halloween flavours that unleash your inner spook for a little fun.
Vampire Vape Heisenberg Nic Salt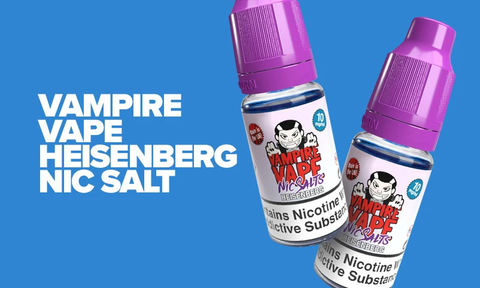 First on the list is the infamous Heisenburg vape juice by Vampire Vape. This nic salt liquid is one of the most popular e-liquids due to its bold flavour and daring essence, making it one of the most unique juices out there.
If you haven't heard about this flavour it is certainly one you will never forget, this Halloween cocktail is a frightening combination of mixed berries, aniseed and menthol that gives you a tingling sensation and a fearless taste.
The cool taste and eye-popping blue appearance make it top on the list of Halloween themed e-liquids.
This liquid was designed for low powered kits, and is great for beginners thanks to its high nicotine content and satisfying mouth to lung throat hit.
Heisenberg by Vampire Vape is also available in a 10ml 70/30 bottle in two nicotine strengths for an easy top-up for those who prefer high powered sub-ohm kits.
·10ml Bottle
·Nicotine Salts
·Available in 10mg or 20mg
·PG/VG: 60/40
·Made in the UK
Barista Brew Pumpkin Spiced Latte 50ml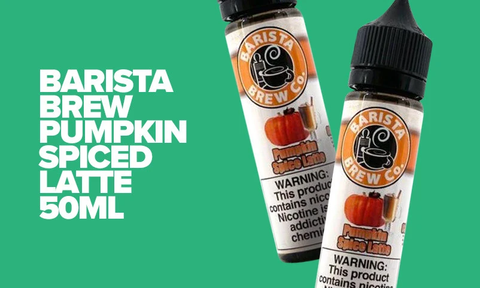 Pumpkins are notoriously Halloweeny thanks to the legendary jack-o-lantern.  By the time autumn comes round my taste buds are screaming for this tasty spicy treat. This vape juice flavour is the perfect blend of coffee, cream and pumpkin pie with a hint of cinnamon that gives you a warming and satisfying all day vape that is perfect for anyone that likes a flavour with a kick. 
This shortfill juice will keep you warm and cosy all Halloween season and is exactly what you need to keep you in the mood all night long and it to the next level.
This juice works best with high powered sub-ohm kits and is designed for advanced vapers, add a flavourless nicotine shot for 3mg of nicotine.
·50ml Shortfill in 60ml Bottle
·10ml of space to add nicotine 
·PG/VG: 20/80
·Direct To Lung Liquid
Essential Vape Co Mixed Apples 50ml
Mixed Apples by Essential Vape Co is a perfect all day vape. Apple bobbing is a popular Halloween tradition that is fun for everyone to play. So we are honouring this popular game  with this delicious apple flavoured vape juice that combines sweet red apples with crisp green apples
This sweet and fruity flavoured vape juice will keep you going all through Halloween season and beyond, its subtle and satisfying flavour never gets old.
This e-liquid comes with a free nicotine shot that will give you 3mg of nicotine and is best  with high powered sub-ohm kits with large coils.
·50ml Shortfill in 60ml Bottle
·10ml of space to add nicotine 
·PG/VG: 30/70
·Direct To Lung Liquid
Sugar Free Bubblegum Candi Nic Salt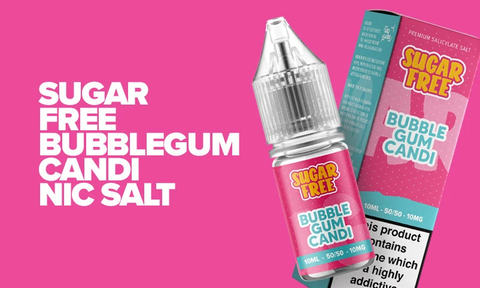 Since it is Halloween season we have to give a shout out to one of the best bits about Halloween - Trick or Treat Candy! So to keep you pumped while you're knocking door to door and for those that aren't trick or treating anymore but don't want to miss out on those legendary treats Bubble Gum Candy nicotine salt by Sugar Free is the perfect juice to add a little bit of childhood wonder to your day.
Bubblegum Candi is a distinctive flavour that is great for anyone with a sweet tooth and is certainly one of the most delicious liquids on the market right now. It brings a much needed element of fun nostalgia.
Use this liquid with pod kits or low powered mouth to lung kits for a satisfying experience.
·10ml Bottle
·Available in 10mg or 20mg Strengths
·VG / PG: 50VG/50PG
·Contains Nicotine Salt Salicylate
Nasty Salt  Bad Blood Nicotine Salt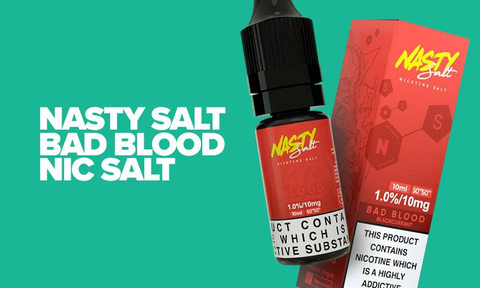 Any Halloween e-juice collection wouldn't be complete without a little bit of (fake) blood. If you're after a slightly dangerous flavour that will tingle your taste buds, bad blood is the one for you.
Bad Blood Nasty Salt by Nasty Juice is a dark and earthy flavour that combines deep blackcurrants with subtle tones of vintage mint. The delicious taste of Koolada combined with blackcurrant gives you a medieval vampire-esk cocktail shaker flavour that gives you one heck of a sweet twisted scare this Halloween.
·10ml Bottle
·Available in 10mg or 20mg Strengths
·VG / PG: 50VG/50PG
·Contains Nicotine Salt Salicylate
This e-liquid is great for beginners, due to its high nicotine content and high PG ratio giving you a satisfying MTL experience when used in low wattage MTL kits.
Would you like to receive these flavours in your Halloween bag this year? Let us know which liquid is a Trick or Treat for you!