Press Release
On March 6, VOOPOO officially released two PODs of ARGUS Series, ARGUS G and ARGUS POD SE. Both of them are compatible with the ARGUS POD Cartridges that could be applied to the previous products ARGUS Z, ARGUS POD and ARGUS P1.
While, each of them has its own uniqueness and innovations that desperate themselves from each other and distinct the covered vapers.
ARGUS G, Go Smooth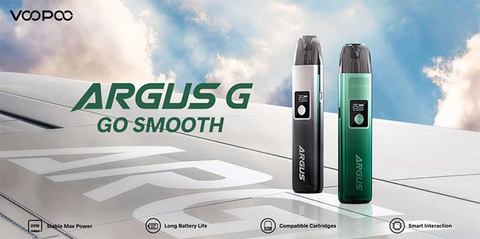 VOOPOO ARGUS G is VOOPOO's first "rectangular stick style" POD supporting MTL to RTL, designed to give vapers an all-around smooth experience.
Larger in terms of battery capacity compared to its counterpart, the 1000mAh built-in battery of ARGUS G supports stable vaping even with the MAX 25W power output and a full charge lasts about three days at maximum. Even with low power, ARGUS G allows more than 30 puffs.
VOOPOO ARGUS POD Cartridge has an innovative leakage-proof structure. The 4-hole air inlet enlarges the airflow and airflow buffer room ensures the smooth taste. ARGUS POD Cartridge stores the condensates and poorly atomized e-liquid against leakage into the pod.
Moreover, the silicone ring maximizes the air-tightness of the cartridge and ensures that the amount of airflow
heated by the heating wire is maximized. It increases the heating efficiency and enlengthens the coil lifespan that supports a half-bottle e-liquid (30ml/bottle) vaping.
The upgraded OLED screen records five-figure puff counts and display wattage, rest power and coil resistance. Text prompts pop up in case of low power, atomizer short, maximum power output, high temperature, vaping timeout, or other special circumstances.
One multi-function button controls everything and makes it easy to operate. Besides, ARGUS G supports button ignition and auto draw, allowing vapers to start their vaping immediately.
ARGUS POD SE, for Treasured Moments
VOOPOO ARGUS POD SE has not only inherited the optimal flavor and advanced texture, but is also a pretty MTL POD with more design options, more ease of use and more cost-performance effectiveness.
The shiny blue and shiny orange ARGUS POD SE are dynamic and gorgeous. The polished zinc alloy body is natural in lines and the color flows with light and shadow. These two CMFs are for the energetic, diverse young people.
Meanwhile, the black, red, and brown ARGUS POD SE retains the zinc alloy and leather materials that is refined in texture and comfortable to grip.
The four-hole air inlet ensures a smooth taste, and the multi-layer leakage-proof structure works effectively in ARGUS POD cartridges. Meanwhile, the simple design as the invisible magnetic connection makes each insertion and removal easier.
The delicate and ergonomic mouthpiece fits perfectly on the lips and maximizes vaping comfort.
The auto-draw, step-less airflow adjustment supporting loose MTL to tight MTL and the side-filling and full-view cartridge makes ARGUS POD SE user friendly. Adopting GENE.
AI 1.2, ARGUS POD SE supports Max 18W output, intelligently matches the appropriate wattage based on the coil resistance, as well as six safety protections that reassures your every puffing.
Fully Compatible with ARGUS POD Cartridges
ARGUS G and ARGUS POD SE are compatible with ARGUS POD Cartridges and share the cartridges with ARGUS Z, ARGUS POD and ARGUS P1.
Full compatibility of cartridges and devices reduces retailers' pressure on the inventory. Besides, the wide applicability of cartridges increases customer repurchases and accelerates excess stock clearing off. Consumers can also enjoy the fresh vaping experience and infinite fun with cost cuts.
If the user already has one of the ARGUS POD Family products, he or she can enjoy the fun of the new cartridge without another device purchase.
Choose ARGUS G and enjoy the full-around smooth vaping experience, while, choose ARGUS POD SE and enjoy the optimal taste and stylish-look POD with competitive price.