A great article appeared on the Nature.com Journal website titled "Nicotine e-cigarettes as a tool for smoking cessation."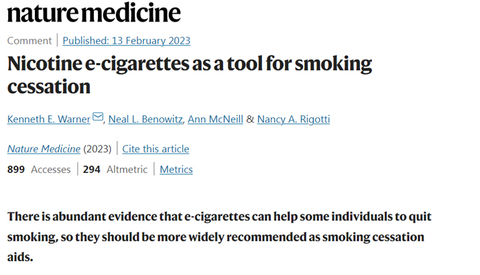 The authors are listed as Kenneth E. Warner, Neal L. Benowitz, Ann McNeill and Nancy A. Rigotti. They are all respected researchers in Tobacco Harm Reduction (THR).
Article Content
The article begins with the comment…
"There is abundant evidence that e-cigarettes can help some individuals to quit smoking, so they should be more widely recommended as smoking cessation aids."
So this already tells you the direction of the document!
Then evidence of scientific trials and policies are reviewed to examine how much of a role vaping should play in smoking cessation policies.
The highly respected Cochrane Living review is cited which concluded that…
"There was high certainty that [smoking] quit rates were higher in people randomized to nicotine [electronic cigarettes] than in those randomized to nicotine replacement therapy"
Comparisons are made of smoking and quit rates between different countries. In the UK for instance – according to this paper – there is an increase in smoking cessation of 10-15% using vapes.
Several studies are mentioned of the safety and effectiveness of e-cigarettes – which it summarises as…
"Given the relative novelty of vaping, its long-term health risks cannot be assessed directly. However, existing evidence suggests that potential long-term harms are likely to be substantially less than those associated with smoking"
The variation in regulation is also examined – results are shown below…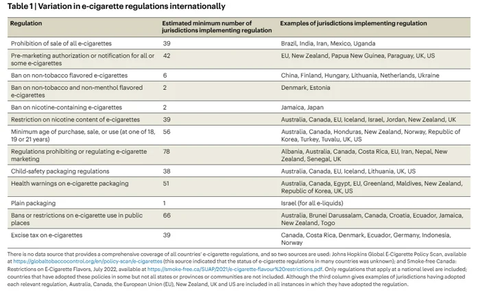 The advice regarding e-cigarettes from Healthcare Professionals is then investigated with comparisons between the messages given by each country…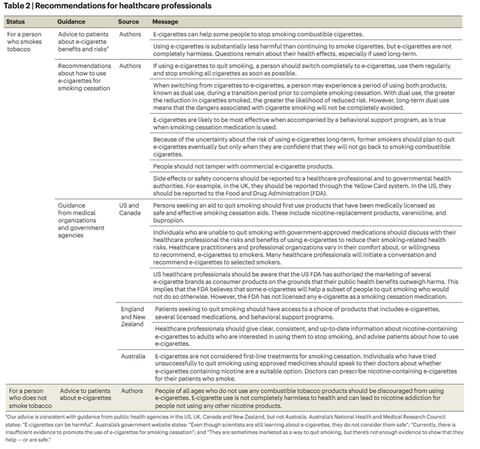 This is only a brief overview, the article is very well researched and presented and gives a lot more information than the contents I have shared above.
I highly recommend you give it a read and share it!
Responses
As you can see below this article has been welcomed with open arms on Twitter with many well known THR advocates praising its stance.
"We believe that governments, medical professional groups, and individual healthcare professionals in countries such as the US, Canada and Australia should give greater consideration to the potential of e-cigarettes for increasing smoking cessation"https://t.co/Id0Qgqevah
— European Tobacco Harm Reduction Advocates (@europethra) February 14, 2023
"There is abundant evidence that e-cigarettes can help some individuals to quit smoking, so they should be more widely recommended as smoking cessation aids." 5 past Presidents of SRNT provide a balanced overview in Nature Medicine: https://t.co/u0Iw7Jc9Ag
— Jonathan Foulds PhD (@JonathanFoulds) February 14, 2023
There is abundant evidence that e-cigarettes can help some individuals to quit smoking, so they should be more widely recommended as smoking cessation aids.https://t.co/FDmuAeqVkm
— Allison (@alli_vapes) February 14, 2023
Excellent overview artcle of #ecigs by 4 very well-respected researchers < Warner,Benowitz,McNeill,Rigotti https://t.co/x0j3l8hs79 < well worth a read
— Alan Beard (@Alan_Beard1) February 14, 2023
This Comment article, co-authored by Kenneth Warner, Neal Benowitz, Ann McNeill and Nancy Rigotti, has been published by @NatureMedicine. It provides an overview of the role of nicotine #vaping in #smokingcessation for healthcare professionals. https://t.co/KP3Gl52Sjp pic.twitter.com/5YutvXb7vM
— The Global State of Tobacco Harm Reduction (@GlobalStateTHR) February 14, 2023
"There is abundant evidence that e-cigarettes can help some individuals to quit smoking, so they should be more widely recommended as smoking cessation aids."
Kenneth E. Warner, Neal L. Benowitz, Ann McNeill & Nancy A. Rigottihttps://t.co/79rFfKEt3Z
— UKVIA (@Vaping_Industry) February 15, 2023
This paper on #vaping by 4 leading international tobacco treatment experts is so important, I am tweeting it again
Everyone should read this@amapresident @RACGPPresident @RyanPark_Keira @Anne_Ruston @greencate @SenatorJordon @michaelkoziol @natassiazc https://t.co/CWWFOaBWzH pic.twitter.com/jCwOacGBnZ
— Colin Mendelsohn (@ColinMendelsohn) February 16, 2023
An excellent article using common sense and evidence to support the use of nicotine e-cigarettes in an effort to quit smoking…https://t.co/ArxFqGUt4n
— K. Farsalinos (@FarsalinosK) February 17, 2023
A tour de force on #vaping #policy.
Spoiler alert. https://t.co/iYSDd1k5x5 pic.twitter.com/8faPP73VXs
— Martin Dockrell (@SwitchFinder) February 17, 2023