Today I'm taking a look at the Vaporesso Xros Nano pod kit.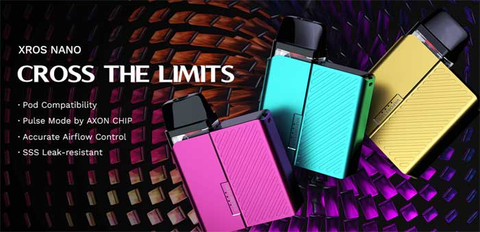 As a manufacturer, no one could accuse Vaporesso of resting on their Stan Laurels. Over the last seven years they've released sub ohm tanks such as the iTank, Mods in the shape of the Target 100/200 while the Sky Solo Plus proved to be the next stepping stone for any newbie.
They've even released a few RDA's along the way.
The Vaporesso Forz is an extremely good dripper. Although unoriginal in design and build quality it does a damn fine job at delivering complex flavour notes.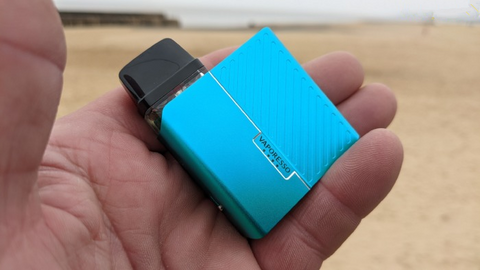 I'm a self-confessed fan of simplicity when it comes to vape devices. The Vaporesso Barr was far and away my favourite pod kit of 2020. Why? It demonstrated how great flavour quality was achievable from a true MTL device – without being excessively powerful.
Vaporesso take Pod kits very seriously in the grand scheme of things. One only has to look at the successes of the Luxe and Target range to realise this.
Heck! I was even impressed with the simplistic build of the Osmall pod kit.
I'm hoping to experience the same level of simplicity and great performance from the Vaporesso Xros Nano pod kit.
What Can We Expect From The Vaporesso Xros Nano Pod Kit?
The Xros range of devices is gathering momentum as well as reputation for delivering the goods. The original Xros demonstrated the classic look and feel of a pod. The Xros Mini included an updated 1.2ohm pod alongside additional battery capacity.
An improved Xros 2 featured dual vape activation and a tiding battery indicator for a more accurate assessment of current battery status.
Vaporesso have completely shaken up the series by releasing a matchstick box style device that once again caters to the new and casual vaper.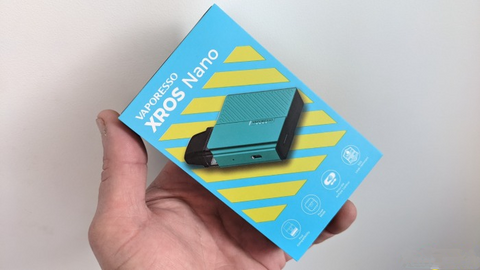 But don't be fooled. The Xros Nano also incorporates the pulse mode of the Axon chip, usually associated with more powerful set ups such as the Target PM80.
Combined with airflow adjustability, we're about to find out just how effective it works in such a tiny, unassuming form.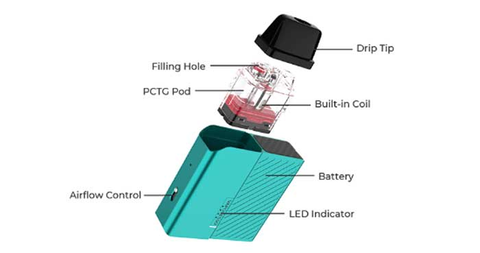 Vaporesso Xros Nano Pod Kit – Inside the Box
The packaging artwork features the pod kit against a parallel pattern back drop. The colours clash but are designed to draw attention while sitting on the shelf of any vape shop.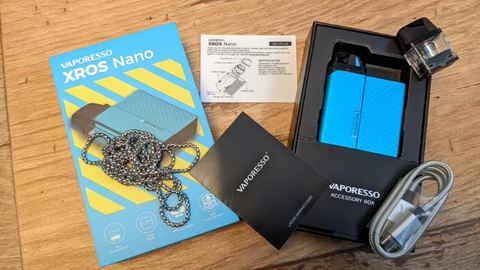 ·Vaporesso Xros Nano battery
·Xros series 0.8ohm mesh coil
·Xros series 1.2ohm mesh coil
·Type C USB charging cable
·Lanyard
·User manual
·Warranty card
Vaporesso Xros Nano Pod Kit – Key Features
Since the Xros Nano pod kit relies entirely on an auto draw feature it will be interesting to see how effective pulse mode is.
It's the first Vaporesso MTL device to incorporate this feature.
During inhale the power of the vape is generally quite consistent. Pulse mode delivers steady bursts of power every 0.2 seconds designed to significantly improve flavour and cloud production.
So it will also be interesting to see how well the integrated 1000mAh battery responds too.
The pods are disposable but refillable and we only get two types. The good news is they're backwards compatible with others in the Xros series.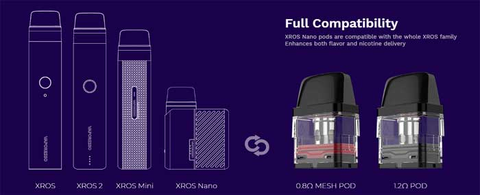 We're looking at a top filling system so there's pretty much no chance of leaking. That's thanks to the patented SSS (saturate, seal and store) technology that Vaporesso are so well known for.
An airflow slider control is built into the front of the device to allow for various degrees of MTL restriction.
Tidal battery LED's keep the user up to spec with current battery drain as well as any potential safety issues the Xros Nano may be experiencing.
Vaporesso Xros Nano Pod Kit – Specifications
The standard and TPD editions are identical. The only thing that separates them is the UK nicotine warning plastered across the packaging. Unfortunately it hides four worthwhile feature bullets…
·Dimensions 14.9 x 48.8 x 63.1mm
·Pod capacity 2ml
·Pod resistance 0.8 ohm/1.2 ohm
·Coil material Mesh
·Battery capacity 1000mAh
·Charging Type C USB
I'm going to assume the pod is made from zinc alloy. Please don't quote me on that! I was also unable to identify the wattage output for either coil resistance.
The Vaporesso Xros Nano pod kit is available in six simple colour schemes. Silver, Space Grey, Black, Yellow, Pink and the Green of the model sent out for review purposes.

..The Space Grey is my favourite. Just Sayin' lol
Starting with the disposable pods. They have a height of 33mm, a width of 23mm and a depth of 11.8mm. The mouthpiece is 6.8mm wide but of course restricts further down to ensure that restrictive mouth to lung vape.
They're made from the usual tough PCTG plastic with a completely transparent viewing window which, in my opinion is a major plus point.
I love the compact nature of these pods. They're solidly designed and built. They also feature two points of air intake at their base – another plus point.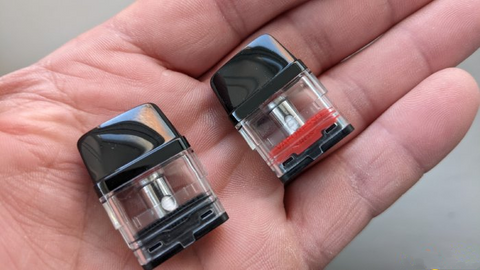 The wicking ports of the 0.8ohm mesh pod (right) are larger than those of the 1.2ohm alternative (left)
How To Fill The Vaporesso Xros Nano Pod

·Remove the pod from the battery section.
·Use a finger and thumb to release the mouthpiece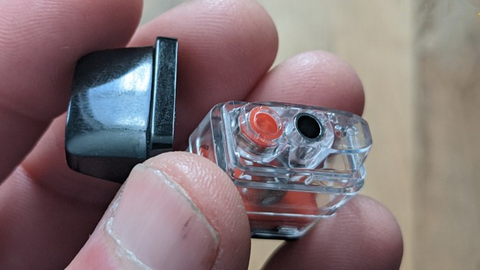 ·Locate the coloured fill port and gently squeeze e liquid into the pod
·Snap the mouthpiece back into place
·Drop the pod back into the battery section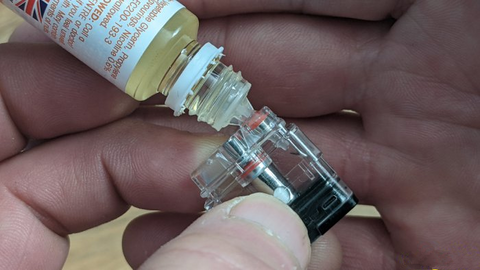 A few things to note.
Do not force e liquid down the centre opening of the pod. This will only flood the coil resulting in a sound effect resembling the breathing patterns of an alien life-form, many planets away…
Ensure that you fill the pod above the level of the wicking ports to ensure full e liquid saturation.
Let the e liquid soak into the cotton for around five minutes before vaping.
Vaporesso Xros Nano Pod Kit – Battery Section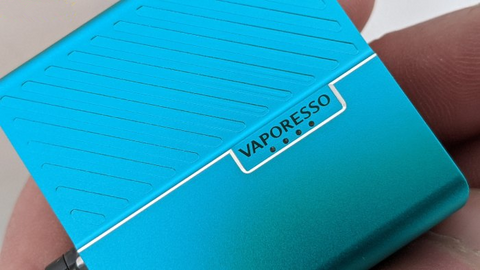 There's practically zero weight to the battery section so even when combined with the pod it's going to be very pocket friendly.
I received the Green rendition and to be honest it's too garish for my liking. Neither is it your classic Green – as in… Green.
A series of parallel lines are embossed where the battery is encased while the pod side expands by a further 1.3mm. Was that a necessity?
Inside the battery are two gold plated spring loaded coil contacts. Two strong magnets line up with those on the underside of the pod to provide a secure connection.
The pod can be inserted either way round making it fool proof to idiots like me!
The Type C USB charging port is located on the bottom of the battery. Since the device is lightweight, it's not likely to be chargeable in a vertical position without bowing to the weight of the charging cable.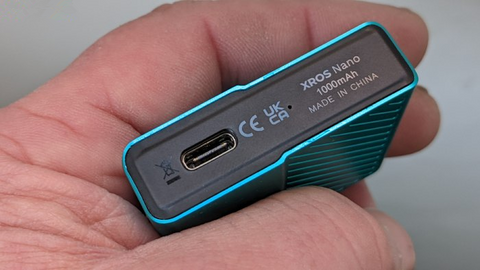 In this instance I would always suggest removing the pod from the battery while charging. This will prevent one side of the wicking port from potentially drying out and causing dry hits.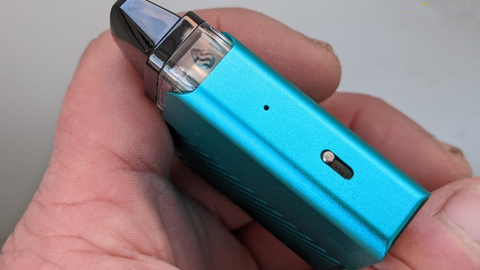 The front of the battery is home to a rather small pinhole, designed to put the brakes on airflow to the coil.
Its main purpose is to provide an authentic mouth to lung draw when the adjustable airflow slides is in a closed position.
In fact the following picture shows just how little airflow is available, even when using the slider…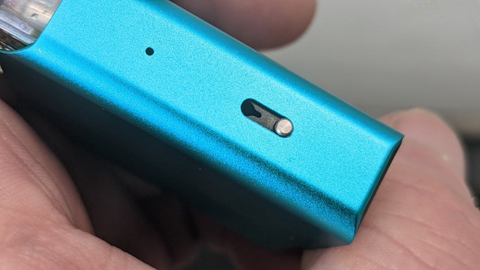 Because the kit is so compact by design Vaporesso have incorporated a slot for use with an included lanyard.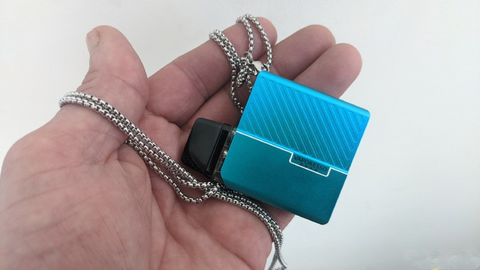 Battery Functionality
All the user needs to be concerned with is either filling the pod and putting their lips to the mouthpiece and inhaling. The Vaporesso Xros Nano is perfectly suited to the new vaper in this respect.
However, as with most devices of this ilk there are still LED's acting as a visual aid.
Four white LED's use a "tidal" pattern to indicate the stages of battery depletion. These are visible while vaping.
·Four – indicates battery strength between 80 – 100%
·Three – indicates the strength is between 60 – 80%
·Two – Medium to low strength at 30 – 60%
·One – 0 – 30% It's time to think about recharging the Xros Nano
Safety First!
It really doesn't matter how large or small a vaping device is. It still has the potential to harm if battery safety is not adhered to. To prevent any unnecessary risks, look out for the following inbuilt safety features.
·All LED's will flash five times to warn of low resistance
(The same pattern applies to short circuiting)
·The current battery level will breath 3 times to warn of high resistance
(The same pattern applies during no load and when attempting to vape for longer than eight seconds)
·All LED's flash three times to indicate low voltage supply
(The same pattern applies to over discharging of the battery)
·If the battery over charges all LED's will remain lit
Vaporesso Xros Nano Pod Kit – How Does It Perform?
I spent a good few days with each disposable pod. They were tested for flavour consistency, vapour production and how they performed with the Axon chip pulse mode.
The 1.2ohm mesh pod was used first. It's predominantly designed for a MTL vape, so how did it perform?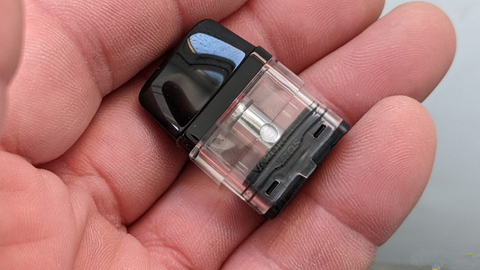 By closing the slider off and relying on the single fixed pinhole I got a very satisfying mouth to lung vape. It's one any new vaper will appreciate because of the level of airflow resistance on the inhale.
It very much mimics the draw from a cigarette.
What about that all important flavour quality? It was very good, reproducing the tobacco blends of 88 vape Original Tobacco quite accurately. However, it is a very cool vape and this pod will no doubt be better suited to menthol, fruit or beverage profiles.
When I opened up the airflow on the slider I actually got more vapour production than expected. A pleasant surprise, with flavour quality somewhat broader while less intense or saturated.
It must also be noted that the inhale was very smooth and turbulent free. Even with airflow wide open you're not likely to hear the wind tunnel effect produced by other pod kits that fall in this category.
0.8ohm Mesh Disposable Pod
I chose a berry fruit flavour when testing the coil. It also had a juice ratio of 50VG/50PG.
With the adjustable airflow slider wide open I achieved a comfortable restrictive lung hit – one I very much enjoy. The flavours popped and were very tasty and vibrant during the exhale.
Again the inhale was smooth and quiet with auto draw working in a flawless and sensitive manner.
Cloud production was very similar to the 1.2ohm mesh coil, with maybe a little more density or volume so still very satisfying.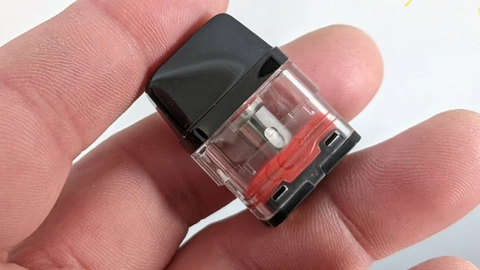 Closing the slider off created a decent MTL vape. It definitely gave me time to savour the flavour notes which retained their great quality. I noticed more sweetness being drawn from the medley of fruits too.
Thoughts On Pulse Mode
This one's hard to call. I was really hoping pulse mode was going to prop the flavour up as the battery depleted.
It does but only to an extent because when the battery falls below 50% there's a marked difference to output. The vape has a tendency to feel weaker and flavour quality diminishes as a result.
It's nothing major but it does feel like I've gone from a great tasting vape to one that's a bit diluted.
So in this respect I have trouble figuring out the true relevance of pulse mode with the Xros Nano. There doesn't seem to be enough power or clout with either pod to justify its inclusion.
Other pod kits have the capability to output a continuous level of power to the coil. In those cases it seems to work quite successfully regardless of battery strength.
Pros
·Leak free disposable pods
·Easy top filling system – no need to remove pods from battery section
·Fast type C USB charging – 45 minutes
·LED's illuminate long enough to view current battery status
·Good flavour from both coils
Cons
·The matchstick box design feels a little cumbersome in the hand
·Limitations of the adjustable slider – not versatile enough
·Flavour quality diminishes as battery strength weakens
·Pulse mode doesn't seem to be very effective
Vaporesso Xros Nano Pod Kit – Final Review Summary
First and foremost I love that the coils remain bone dry against leaking at all times. The top filling system really helps. Being able to leave the pod in the battery section when filling is also a cool feature – it's quick and it's very convenient.
Although there is room to make minute airflow adjustments with the slider, I never really found myself using it. There just wasn't enough difference with the vape to warrant it.
Airflow was either left wide open or I opted for the single pinhole. The former gave me an enjoyable restrictive lung hit and the latter a tight MTL vape.
Both coils gave great flavour replication. There's not much to fault with these mesh disposables.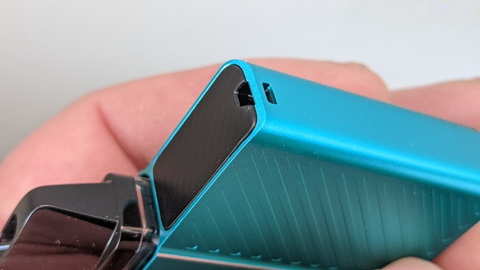 They did go through the juice quicker than I anticipated. On a few occasions the pod ran dry much sooner than anticipated. This would indicate a fair degree of power passing through the mesh coil.
Could that possibly the result of pulse mode at work?
The Vaporesso Xros Nano will hold out a full day before needing a recharge. A word of warning! Once the LED registers one (low charge) you'll only get half a dozen pulls before succumbing to that wall socket.
It takes only 45 minutes to regain a fully charged battery.
To summarize, the Vaporesso Xros Nano pod kit is a reliable little device. The no nonsense approach, portability and ease of use is sure to make it an ideal candidate for the new or casual vaper.