As you become more experienced with vaping, you will begin to discover that there is a huge world of device customization! You can swap different vape oil tanks, mouthpieces, and a large number of other accessories. Many vapes allow you to swap the heating coils! With smaller, more intricate pieces like vape coils, you need to make sure that your parts are compatible. Do all vape coils fit all vapes?
DO ALL VAPE COILS FIT ALL VAPES?
No! It would be safer to say that the opposite is true, in that most heating coils are made for specific vape brands or even specific product lines within a vape brand. The vaping coil is the component responsible for heating your vape oil to create vapor, so it is a small, intricate piece. It is essentially impossible to create internal hardware, like a vape coil, that would be a universal fit across all vaping devices. If you are looking to replace your vape coil (or heating element in general), you need to make sure that you are buying compatible pieces!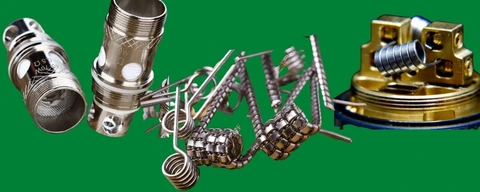 HOW DO I KNOW IF A VAPE COIL IS COMPATIBLE WITH MY VAPE?
There are several steps you need to take to determine if the vape coil you are interested in is compatible with the vape that you currently own. Following these steps can prevent a time-consuming return process and can get you back in top vaping form quickly!
DETERMINE THE BRAND AND MODEL OF YOUR DEVICE
The vast majority of vape coils (and vape components in general) that you find online will state the specific makes and models that they are compatible with. For example, these coils are made specifically for the Yocan Cerum and are not compatible with any other vaping device. While not all spare parts will say the specific brand and model they are designed for, most will! This is because, as we mentioned, the majority of spare vape parts, like coils, are made for specific vape products.
Of course, it's possible to come across vape parts that may not be specifically linked to a specific model or device. While this can make things a bit more complicated, you can continue to follow these steps to see if it will work in your device!
TYPE OF VAPE COIL NEEDED
Knowing what kind of heating element your device uses will easily narrow down your choice of spare parts. For example, if you have a vape tank that uses a wick, then you shouldn't be shopping for exposed heating coils! If you are not exactly sure what kind of heating element your vape uses, keep reading our guide below for help!
· Dry Herb Vapes: Dry herb vapes will either use a heating chamber if they produce vapor, or an exposed heating coil if they produce smoke.
· Oil Vapes: Oil vapes will use atomizers with coils or wicks as their heating element. Many oil vapes have replaceable heating elements, but some do not offer the option for part replacement. If your device manual does not have a method for disassembling the device, then you are better off buying a new vape tank or vape pen.
· Wax Vapes: Wax vapes will use an exposed heating coil as their heating element. Since vaping wax concentrates puts a heavy toll on the heating coil, most wax vapes are designed to easily replace the heating coil when it goes bad. Some brands even make a reputation on how easy and accessible their replacement parts are, like Yocan.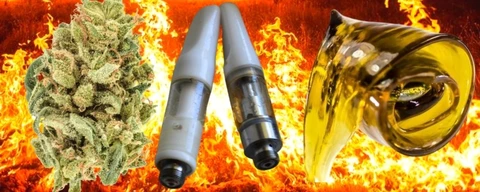 VAPE PART REPLACEMENT AVAILABILITY
It is very possible that your vape was not designed to exchange internal parts. This is especially true with oil vapes that use pods, as well as cheap vape pens and tanks. As we mentioned earlier, if you are unsure whether or not your vape was designed to have parts replaced, consult the users manual!
REACH OUT TO THE MANUFACTURER OR RETAILER
Of course, we don't always keep our vape manuals handy (and some vapes may not come with thorough instructions). If this describes your product and you are having trouble with troubleshooting or replacing parts, reach out to the manufacturer or retailer! The manufacturer will be able to answer specific questions about what kind of maintenance the device was designed for. Retailers not only can answer specific questions about the devices they sell, but they will be able to guide you to compatible components that they sell in their store.