A Backbench Business committee debate was held on November 3rd 2022 to discuss what progress was being made on the Tobacco Control Plan for the UK and the Smokefree 2030 goal.

As I have mentioned in numerous articles the Khan Review made some strong recommendations to meet the Smokefree 2030 goal yet as to date there has been nothing implemented at all from this review.
Bob Blackman (Conservative MP for Harrow East) and Mary K Foy (Labour MP for City of Durham) put forward the debate.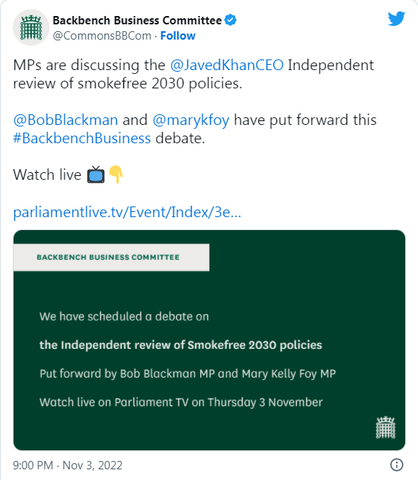 You can read the Hansard transcript here – which I will cover below.
Discussion Summary
Basically Bob Blackman who is also the chair of the All Party Parliamentary Group on Smoking and Health was present but sadly Mary Kelly Foy was too ill to attend.


But she need not have worried as Bob did a great job of getting the point across that there has been no progress since the Khan Independent Review published 9th June 2022. Also he re-iterates that there was to be a new tobacco control plan created before the end of 2022.
The debate was due before the summer recess, however there have been several changes to the Health Minister and the new plan was first promised in 2021.
He also says regarding the Smokefree 2030 goal…
"There is no time to be lost. When the ambition was announced, we had 11 years to deliver it. Now, we have less than eight years, and we are nowhere near achieving our ambition, particularly for our more disadvantaged communities with the highest rates of smoking. Research cited in the Khan review estimates that it will take until 2047 for the smoking rates in disadvantaged communities to reach the smokefree ambition of 5% or less. Will the Minister put on record his commitment that the Government, having considered the Khan review recommendations, will publish a new tobacco control plan by the end of 2022 to deliver the smokefree 2030 ambition?"
He is right – the longer these measures are postponed the less chance there is of meeting these goals.
Bob was backed up by Liz Twist (Labour Blaydon) and Alex Cunningham (Labour Stockton North – plus Vice Chair of APPG on Smoking and Health). Both report on issues in their localities of smoking related health problems.


Maggie Throup (Conservative MP Erewash) who we have seen before in such debates over Tobacco Control adds on the financial impacts of smoking from the NHS to local economies. She is also a firm believer that increasing the minimum age to buy tobacco products as recommended in the Khan review will help achieve the smoke free goals and ultimately save the government money.

I quote Maggie Throup from the Hansard record…
"In our 2019 manifesto we committed ourselves to levelling up, and that commitment has been reiterated by our new Prime Minister. Levelling up is not just about infrastructure; it is also about levelling up our health and life chances. That is particularly important for my constituents, because 16.6% of adults in Erewash are currently smokers, which is above the national average. With average annual spending on cigarettes estimated to be around £2,000, it is not just the health of smokers that is being affected, but their pockets as well. Becoming smoke free by 2030 would lift about 2.6 million adults and 1 million children out of poverty, and so would aid our levelling-up agenda."
She then turns her attention to vaping…
"Before I end my speech, I want to raise the issue of e-cigarettes, or vaping. The Khan review contains a specific recommendation on this, and I want to explain why it is so important. As with cigarettes, the age of sale is 18, but time after time I see young people at the end of the school day using vapes—and that is outside schools without sixth forms. It is illegal for a retailer, whether online or on the high street, to sell vaping products to anyone under the age of 18, so I am not sure how under- age users are obtaining the devices. The manufacturers are obviously aiming some of their marketing at this age range through the use of cartoon characters, a rainbow of colours, and flavours to match. The function of e-cigarettes should be solely as an aid to quit smoking, and not, as I fear, as a fashion accessory and, potentially, the first step towards taking up smoking.
The proliferation of vape shops in our high streets and online proves that vapes have become an industry in their own right, and are now being used by tobacco companies to maintain their profits as restrictions on tobacco increase. I therefore ask the Minister to work with his colleagues in the Home Office, the Department for Levelling Up, Housing and Communities and the Department for Education to see what more can be done to clamp down on the illegal supply of vapes to those under the age of 18. I also ask him for an update on progress in getting a vaping device authorised through the Medicines and Healthcare products Regulatory Agency—a step that would send the strong message that vapes are an aid to quitting smoking and not an alternative to smoking."
I agree there are issues with young people obtaining vaping products and thankfully she is pro-vaping as a smoking cessation tool.
Also this is a beauty…
"Finally, let me ask a question that has already been asked by other Members today: will the Minister provide a date on which we can expect the tobacco control plan to be published?"
Yes this is a question we would all like the answer to!
Andrew Gwynne (Shadow Minister for Health and Social Care, Labour MP for Denton and Reddish) then spoke – also following the same line as the previous speakers.

He said the following…
"It is now nearly five months since the release of the Khan review. Both the hon. Member for Erewash and I spoke at the launch, and I think the review was universally welcomed. It was generally agreed that we must move apace in ensuring that we meet the ambition of a smokefree 2030. In those five months we have had three different Health Secretaries, and we are now on our third Prime Minister. I do not blame the current Minister for all this chopping and changing, but it is little wonder that the Government have failed to find time to respond to the Khan review amid the endless changes. I hope that when the Minister responds to the debate, we will finally be given some clarity. I hope he will set out a timetable for when the Government will respond to the Khan review, and will outline which measures in the review itself the Government are currently considering. I also hope he will be able to reassure Members on both sides of the House that the Government stand by their commitment to create a smokefree England by 2030."
Government Response
Neil O'Brien (Parliament Under-Secretary of State for Health and Social Care) thanked everyone for speaking and talked about the health risks and statistics of smoking.

He then talked about all the measures that were put in place in previous years and especially illicit sales and importation.
The speech then moved to vaping…
"We have discussed vaping as a substitute for smoking. We recognise that vaping is far less harmful than smoking and can be an effective quitting device. We also recognise that there is more the Government can do to tackle the myths and misconceptions that surround vaping. Our recently published "Nicotine vaping in England" report set out the most up-to-date evidence on vaping, providing an even more compelling case for supporting smokers to switch. However, in recognition of the recent increase in vaping rates among children, which my hon. Friend the Member for Erewash mentioned, we are doing more to prevent children from vaping. We have updated our online materials, and we are working closely with the Department for Education to communicate with schools on how best to set policies around vaping."
I am pleased to see that the role of vaping as a quit tool has been recognised and that the government are aiming to tackle the myths and misinformation around the subject.
He also referenced the Nicotine Vaping in England report from King's College London which was hugely positive towards vaping.
"I understand the compelling arguments made by the Khan review and the very strong evidence in the recent "Nicotine vaping in England" report. Over the coming weeks, we will be quickly taking stock on whether a refreshed tobacco control plan is the best way to respond, and on how and when to take forward all the suggestions made by that review."
He then finished with the following…
"The Government recognise that more action needs to be taken to protect our people from this dangerous addiction. We know that the action we take must be comprehensive, bold and ambitious. The prize of reaching a smokefree 2030 will be huge for this country, particularly for our most disadvantaged citizens. I thank all hon. Members who have taken part in this debate."
Bob Blackman was next to speak and rounded up the proceedings.
Thoughts
Sadly I see no deadlines for the Tobacco Control Plan updates but I am pleased to see the hard work of the Khan Review and the excellent recommendations have not totally been forgotten.
So this debate did little to move the process forward but it does at least reassure that the matter is still being considered – which is kind of a positive?!?!