RDAs are quickly becoming the best rebuildable atomizers around.  They deliver some of the freshest flavor and largest clouds.  But there is one thing you might be missing and need to complement your favorite RDA vape topper.  That is why we have put together our list of the best squonk mod devices.
Squonk Mods
The Best thing about squonking is that you can enjoy your favorite RDA without having to drip from a bottle.
Squonk mods are vaping devices mainly used with RDAs and RDTAs.  They are the vaping base that holds the batteries and sometimes a circuit board.  Squonk vapes with circuit boards are known are regulated squonking devices.  Mechanical Squonk vapes do not have a circuit board.  This means that you have unregulated power being delivered to your RDA or RDTA.
The squonk mods listed below are a mixture of Regulated and Unregulated Squonks.
Regulated Squonk Mods – Advanced squonk vape. Ability to adjust wattage or temperature.
Unregulated Squonk Mods – Mechanical squonk vape.  Power or wattage is determined by calculations with Ohms Law. 
Best Squonk Mod Devices
1. Topside 90W by Dovpo & TVC
Topside 90W Squonk Box mod is the outcome of a partnership between the Dovpo and The Vapor Channel in the never-ending pursuit of an unrivaled vaping experience. This box mod is among the world's best squonk bottles with a top fill feature. Its wattage output is between 5 and 90W, resistance is between 0.08 and 0.35 ohm, and the voltage output is between 1.0 and 8.5V. Although the Dovpo Topside doesn't feature a temperature control suite, you can upgrade it via the official Dovpo site. The temperature control suite is compatible with typical heating elements like SS316, Titanium, and Ni200.
The Topside 90W Squonk Mod comes with a temperature output of between 200 and 600°F. It features a clear 0.96-inch OLED display that displays critical vaping information, including output voltage, output mode, atomizer resistance, battery life indicator, output wattage, and output current, in a vertical arrangement. Thanks to its three-button control interface, this vaping powerhouse is user-friendly. The over-sized firing button is conveniently located and clicky while the two adjustment buttons are very responsive.  The battery casing adopts a straightforward slide-to-lock design and supports one 20700, 21700, or a 18650 cell with the included adapter. The Dovpo x TVC Topside 90W is a powerful device built with solid construction materials such as stainless steel, zinc alloy, and aluminum alloy.  One of the best squonk mods that is usually complemented by the Reload RDA is a two coil, a mesh-compatible device that delivers excellent flavor and amazing squonking abilities.
2. Vandy Vape Pulse V2 Squonk Vape
The Vandy Vape V2 95W is a regulated squonk vape mod equipped with several safety mechanisms, allows TC vaping, and supports different voltage and wattage in power mode. It is constructed with a sturdy ABS plastic, and its dimensions measures 82mm by 56mm by 27mm. The mod fits perfectly in the hand and gives you a tight hold. It features a clicky fire button, rectangular screen, dual +/- buttons, and a conveniently located micro-USB port that supports onboard battery charging as well as firmware updates.
The Pulse BF 95W squonk vape can support 26mm diameter atomizers without any overhang. Removing the battery on this device is easier thanks to the detachable panes on each side. It supports 20700, 21700 cells, and 18650 cells with the included adapter. The device switches on and off immediately you install the battery or press the fire button five times in quick sequence. Three presses of the fire button allow you to navigate through the various power modes, including Bypass mode, power mode, and TC mode with the three compatible materials (titanium, SS, and nickel). The menu is simple to operate – you can access it by pressing the adjustment buttons for a few seconds without releasing them.
3. Eleaf Pico Squeeze 2 100W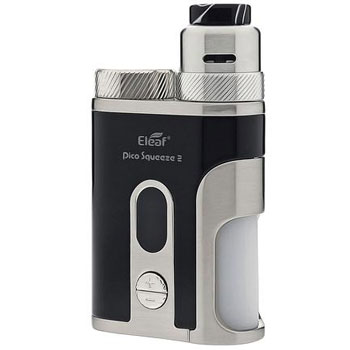 The Eleaf Pico Squeeze 2 is a sturdy and compact device. Its dimensions measures just 56mm by 28mm by 97mm, and the device weighs about 305 grams with the battery installed. Due to its smooth-edged corners and ergonomic design, the device feels nice in the hand. It comes in 5-color options, including stainless steel, purple, rainbow, red, and black. The body of this squonk device is built with metallic materials that make the device feel amazingly tough and durable. The device features a three-button interface as well as 2A super-fast charging ability through the micro USB port.
The Pico Squeeze 2 runs off a single high-amp 21700 cell or an 18650 battery with the 18650 adapter that comes along with the squonk mod. It uses a soft squonk bottle with an 8ml e-liquid capacity positioned on the side of the mod, detachable through the magnetic door. Pico Squeeze 2 mod matches well with the Coral 2 RDA that features a spacious two-post single slot build deck. Each slot measures 3mm by 1mm, and it is angled.  It has an angled airflow that measures 10mm x 3mm and lets in enough air.
4. HCigar Aurora 80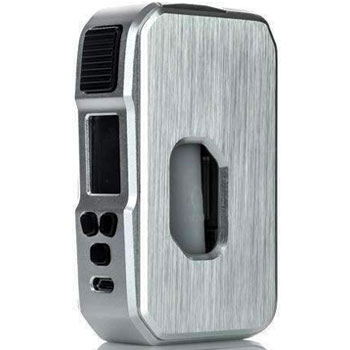 The Aurora 80 is a groundbreaking device powered by a Towis XT80C chipset. It has an ergonomic design that gives it a pleasurable hand feel and great build quality. It is creatively crafted using rock-solid aluminum alloy and features a pre-installed white silicone e-juice reservoir. The clicky fire button sits on the front of the squonk mod for convenient access and operation. The device has a TFT color display measuring 0.96 inches that is easy to read.  It is compatible with the numerous working modes of TC and VW. The triple button interface enables you to adjust the numerous settings and access the menu function. The front battery door features a lovely huge squonk hole where you can thrust your bottle. The battery door is easy to remove – it exposes your battery and bottle housing.
The backdoor is also removable just like the front one. It exposes an exceptional slide that would enable the device to accept a 21700 or a 20700 cell. This best squonk mod device is extremely easy to refill – just take out the bottle, loosen the cap, and fill it with your favorite liquid, just above ¾ full to give space for liquid displacement because of the straw.
5. Aspire Feedlink Revvo Kit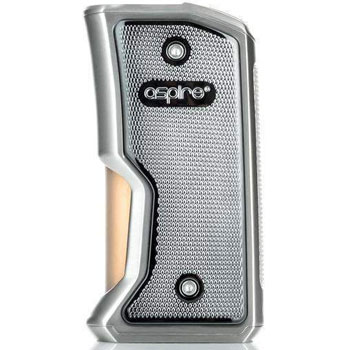 The Feedlink Revvo is another powerful squonk mod that works well with the innovative Revvo Boast BF Tank that can accommodate 9ml of e-juice. Powered with a single 18650 cell, the device can put out between 3.0 and 4.2V. Remember, this power output range depends on battery life. It has one sturdy fire button as well as a smart LED indicator light situated on top of the mod. Five presses on the firing button locks or unlocks the device. When you press the fire button, the LED indicator will illuminate to specify battery output. Blue specifies power levers over 3.8V, blue and orange specify power levels between 3.8 and 3.5V and Orange is a sign of power level at 3.5V or less.
The Feedlink is one of the best squonk mod devices with various built-in protection mechanisms to ensure your safety as well as that of the mod itself. These protection features range from short circuit protection, automatic firing cutoff of 10 seconds, overheating protection, to over-discharge protection. The Feedlink works well with the Revvo Boost tank that consists of the cutting-edge Aspire Radial Coil (ARC). The wattage range for the ARC coils is between 70 and 80W while the resistance is between 0.1 and 0.4 ohms. The Aspire Feedlink Revvo Kit is an exceptional squonk kit with adequate vape juice capacity and a gorgeous design that allows it to stand out in today's competitive market.
6. Asmodus Ultroner Luna 80w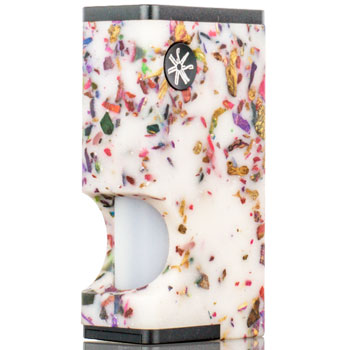 The Luna 80W BF squonk box is the product of successful collaborative efforts between Asmodus and Ultroner. This squonk device is lightweight and features a good-looking stabilized wood. The device displays a tiny, ultraportable design that runs off a single 18650 cell (bought separately). The frame of this device is constructed with solid 6063 aluminum while the body is built with stabilized wood.
The Luna box mod has an advanced UL-80-JX chipset, which enables the device to put out a maximum of 80W based on the status of the battery and switches off when the battery level hits 3.3V. You can access the bottom feed bottle by taking out the bottom tab and removing the bottle. This bottle can accommodate 7ml of your treasured e-juice, which makes it a perfect full day vaping machine. The device has an intuitive LED light indicator that will blink green if the battery is set up properly, blink red five times in succession if the battery level reaches 3.3V, and blink red in case of a short in the atomizer. This Luna 80w BF Box squonk mod is a great setup for vapers looking for a user-friendly and aesthetically appealing vape device.
7. Wotofo Recurve Squonk Mod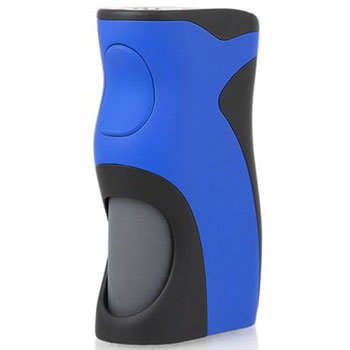 The Wotofo Recurve 80W is undoubtedly one of the best squonking devices in the market. This tiny, ultra-portable device puts out a maximum of 80 watts with a single battery of various sizes listed below. It features a removable strengthened door that covers the state-of-the-art Smart Siphon System (SSS) and battery bay. The SSS system uses a pump positioned on the mod's body that drains off vape juice via the 510 pin and drives it into an RDA that is squonk vape ready.
The Recurve has an innovative chipset that supports an array of safety features.  This squonk can be powered by a single 8650, 20650, 20700, or 21700 battery under a working voltage of 3.2-4.2 volts.  The Recurve squonk pairs well with the famous Profile RDA. This RDA consists of a mesh coil build deck with side-mounted screws. It can support both single and two coil setups. It is made of rock-hard SS316, and it has a deep juice well.
8. Wotofo RAM Squonk
The Wotofo RAM Squonk box is an innovative, powerful box mod paired up with great-looking design and construction. This squonk box mod has a squonking vape system that features a detachable plastic tank with the self-closing PTF system.
The theme color of the squonk box can be changed from green, yellow, orange, red, and blue depending on what color you choose. The RAM squonk box mod has one button and is a true mechanical squonk mod. It has an integrated reservoir system with 6.5ml e-juice capacity that enables the vaper to just press the squonk bottle between the cut out to drive e-liquid into their bottom-fed RDA.
Best Squonker – A Word On Squonk Vapes
Often times it is hard to know what makes the best squonk mod the best.  What do you look for?  Well, you will probably be pushing that bottle quite a bit.  So, one very important thing to look out for is the use of silicone bottles.  Silicone comes on most squonk mods but if it doesn't then you may want to stay away from it.
Another aspect of the best squonker is the ability to refill that squonk bottle with ease.  If you notice that the battery compartment and the compartment for holding the E-Liquid bottle is accessed through the use of the same door then this may pose some problems when refilling your squonk.  If you don't know exactly what we're talking about.  Try this, picture your batteries sliding out of your squonk mod every time you go to take out the squonk bottle and fill it.