VOOPOO's range of Drag vape kits have long been a favourite among vapers, offering a variety of different options for both intermediate and advanced vapers. With each iteration of the Drag we see innovative new features and little upgrades that make these devices an absolute joy to use. In this post we are taking a look at the Drag 4 vs the Drag 3 to help you choose which Drag is right for you.
Battery life and power output
At first glance it would appear that the VOOPOO Drag 4 and VOOPOO Drag 3 TPP-X are the same in this category, both powered by two 18650 batteries and with an output range of 5 – 177 watts. However, depending on what you are looking for in a vape kit, they actually have some unique features that set them apart from one another.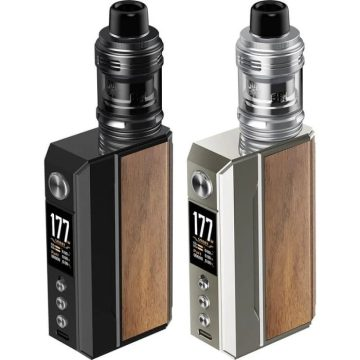 If you tend to spend much of the day on-the-go and need a device that can keep up with you, the Drag 4's eco mode function is a must for longevity. Obviously, the time between charging varies from person to person depending on a variety of factors such as how much you vape and what wattage setting you use.
However, the Drag 4 helps you optimise your battery life to offer up to 650 puffs and up to 24 hours of power per charge. The device gives you the option to enter eco mode at any time, and when the charge has 20% left the interface will switch to eco mode to help you conserve battery power. I really liked this feature as I have a tendency to forget my spare batteries, so it just gives me that little bit of extra power to keep me going.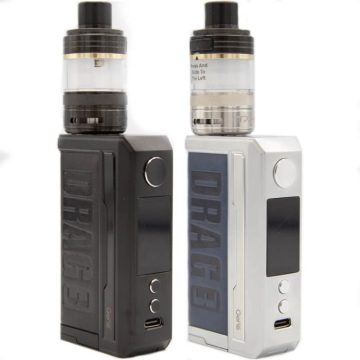 The Drag 3 TPP-X kit on the other hand is focused on power, offering multiple power modes that let you select the one that best suits you. The SMART mode is a simple and easy-to-use option, but where this device really shines is in RBA mode.
When the Drag 3 is in RBA mode with the wattage set to 80 w it will automatically enter SUPER mode, designed to give the ultimate big cloud vaping experience. If you are a cloud chaser the Drag 3 is definitely going to be right up your alley, especially if you often use rebuildable tanks.
Size and design
The VOOPOO Drag range are instantly recognizable for their distinctive and sleek design that runs through the full range.
Both of these devices have a robust and sturdy design that lets you feel the quality of the materials and manufacturing, and maintain a very similar size and rectangular shape.
The Drag 3 combines a zinc alloy body with a smart leather panel that feels exceptionally comfortable in the hand. The batteries can be easily changed through the base of the device, accessed by a secure battery door. The battery door is ideal for changing your batteries on-the-go as it remains attached to the device so if you are anything like me you won't have to worry about misplacing it.
The Drag 4 on the other hand features a new C-shaped magnetic battery cover that is easy to remove and attach and sits flush with the device to minimise the amount of nooks and crannies where dust and lint can collect. This is ideal if you tend to store your vape in your pocket or bag where lint runs rampant, or if you work in a job outdoors or in construction where your device is likely to come into contact with a lot of dust and muck. It also incorporates unique and really smart looking walnut wood panels that really elevate the look of the device.
Tank design & coil options
The Drag 4 kit comes with the UFORCE-L tank which features a triple air-inlets with a triangular structure for a super smooth vaping experience and superior airflow. The 360° airflow adjustment ring lets you control the exact airflow setting to find what feels most comfortable for you.
The Drag 3 TPP-X kit on the other hand comes with the TPP-X tank. As with the mod, this tank is optimised for power and has been adapted to work best with the most powerful TPP coils for huge cloud production.
Something I really appreciate about both of these tanks is that they both have a top fill design which makes it really easy to top up your e-liquid without having to remove the whole tank. Another big plus is that both tanks are compatible with the full range of VOOPOO TPP coils, which means you have a wide range of coil options offering a variety of different wattage range compatibility.
Overall, both the Drag 4 and Drag 3 TPP-X kits offer a fantastic advanced vape kit option, each suited to a different set of vaping priorities. The Drag 4 is ideal for those who are looking for a kit with a long battery life whereas the Drag 3 is more aimed at those looking for a device designed for high powered vaping and huge clouds.