There's never a shortage of volunteers when it comes time to put together one of our vape reviews. With plenty of passionate vapers on the team, there was plenty of excitement for the release of the Vaporesso Renova Zero, an all-in-one vape pod system that promises to change the pod system game. There's no doubt that at first glance, the device stands out from the crowd, but we were all dying to know if its performance lives up to the hype. There are few things we love just as much as providing our customers with the best vape deals in the business, but one of those things is definitely testing out vape products to give you an insider's perspective.
If you've had your eye on this new vape device, here's a quick Renova Zero Vape Pod System review to tell you everything you need to know about this impressive product by Vaporesso: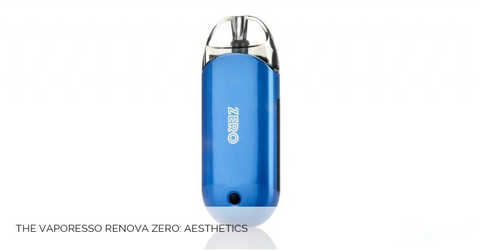 The Vaporesso Renova Zero: Aesthetics
As far as vape pod systems go, the Vaporesso Renova Zero scores major aesthetics points for its sleek, stylish design. Measuring 74.9mm by 40mm by 16mm, it's a super-compact option for vapers who want to be able to take their vape on the go. It fits comfortably in your pocket or purse, without any unnecessary bulk or weight.
However, don't assume that its small size and lightweight design means it's cheaply made; the Renova Zero is crafted from a high-quality polycarbonate/zinc alloy that makes it super durable and able to stand up to regular use. You'll be able to choose from a generous line-up of colors including rainbow, arctic blue, black, and silver, so it's easy to match your Renova Zero to your personal style.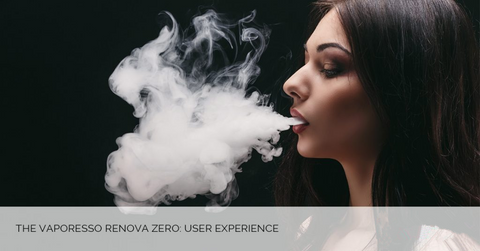 The Vaporesso Renova Zero: User Experience
For vapers seeking a user-friendly pod system that won't break the bank, the Vaporesso Renova Zero is an ideal option. Even with its budget-friendly price, the Renova Zero has a slew of smart features that make your vaping experience sweet and simple. Minor details like the small grooves on the device and a single On/Off button actually make a big difference, allowing for comfortable handling and hassle-free operation. This device was definitely designed with the vaper in mind, and it includes great features like low-liquid detection, auto-temperature control, and a well-rounded suite of safety protections.
One of the highlights of this pod system by Vaporesso is the ZERO Refillable Pods, which features an innovative Press-to-Fill features that makes refills incredibly simple and mess-free. It holds 1.6mL of e-liquid, just enough to supply your vape sessions without forcing you to carry out a bulky device. An LED battery indicator keeps you on top of your charge status, while the integrated 650mAh battery provides plenty of power to get you through the day. When it is time to recharge, the microUSB port is key to fast, frustration-free charging.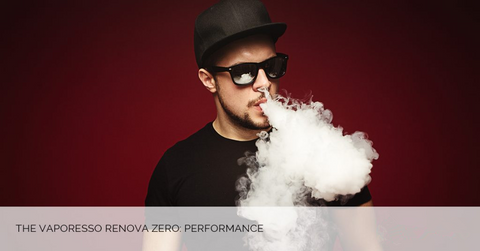 The Vaporesso Renova Zero: Performance
True to the Vaporesso legacy, the Renova Zero packs a serious punch when it comes to performance. The AIO kit includes a CCELL Coil, which utilizes ceramic heating elements to provide a consistently flavorful vape and an extended vape life. You'll be able to enjoy your favorite e-juice flavors to their maximum potential, without dealing with a drop-off in quality that occurs with some other coil brands and types. Another benefit of this device is its versatility, allowing you to run as low as 1.0ohm resistance and between 7 and 12.5 watts on a direct voltage-based output.
Our Final Thoughts
Overall, if you're on the market for a high-quality, easy-to-use pod system, the Vaporesso Renova Zero is one to consider. It offers great performance wrapped in a stylish, super sleek package that will satisfy everyone from vaping newbies to flavor aficionados. Plus, it's budget-friendly price makes it a low-risk option if you're just feeling like trying something new. For less than the price of a night out at the movie theater, you can score a well-made pod system that offers a great on-the-go vape experience.