Why buy a Sub-Ohm kit?
Sub-ohm vape kits are powerhouses putting out between 25 - 200W of power through sub-ohm coils at ranges of 0.15ohm - 0.8ohm. They are infamous for producing big clouds packed with a higher concentration of flavour. With bigger clouds, you are inhaling more vapour in one go and can vape at much lower nicotine levels while still getting your hit and opening you up to much milder high VG e-liquid. The result is a silky smooth & dense vape experience with next to no throat hit and flavour that tastes like the real thing - you can vape Blackberry Cheesecake guilt-free all day! You'll also be saving money as you'll be able to take advantage of super economical 50ml or 100ml shortfill bottles that will keep you vaping for ages.
Sub-ohm kits have much bigger battery capacity and also have the option of external batteries, these are much cheaper to replace than buying a new kit if the battery dies with the added benefit that, with a battery charger, you can have a few batteries on the go and never have to worry about running flat.
Another highlight is the extensive range of customisation options with a sub-ohm kit - from the sophisticated coil and tank design, progressive airflow and advanced power setting options - you are free to experiment and create exactly the kind of vape you want. Whether you're chasing big clouds or want the most authentic flavour possible, with a sub-ohm kit you are free to explore most of what vaping has to offer.
With that in mind we've curated a list of the top 5 best-selling and highly rated sub-ohm kits on the market for 2023.
1. E100 by Geek Vape
£39.95
The E100 is a compact, rugged and ergonomic sub-ohm vape kit encased in a comfortable silicone housing with leather backing that is a joy to hold. An IP68 rating for water, shock and dust resistance with a leakproof pod design make this an excellent all-weather travel kit. The Geek Vape E100 is powered by an external 18650 battery that puts out up to 100W of power in 0.2ohm or 0.3ohm P-Series mesh coils-delivering intense flavour and plumes of luscious clouds.
The E100 Pod offers fully adjustable top airflow, top refilling and fast coil changes with the plug-and-play design-making the upkeep of your E100 a breeze. Fitted with the latest AS3.0 Chip that provides 8 fully customisable settings, giving you full control at your fingertips using the generous 1.06" colour TFT display is easy to read and navigate with the intuitive direction button. A quick sliding lock for peace of mind and dast Type-C charging round off this high-performance and reliable sub-ohm kit.
2. Drag 4 by Voopoo
£59.95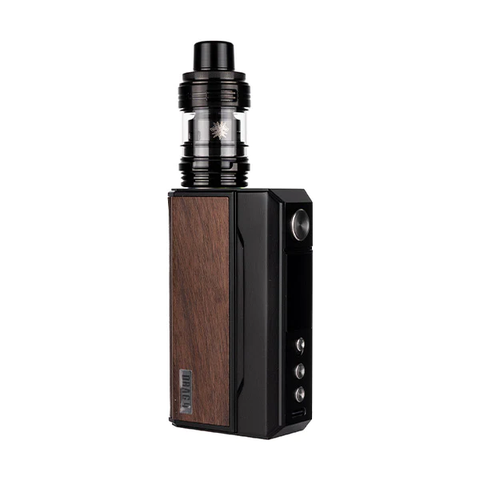 The Drag series of sub-ohm kits are famed for their upscale design and solid performance and the Drag 4 doesn't disappoint. The standout design features high-grade zinc alloy chassis with your choice of inlaid solid wood or resin and a leather grip. Its variable wattage is capable of up to 177W of output backed by two 18650 external batteries. Sitting on top of the kit is the UFORCE-L tank showcasing a leak-proof design that avoids messy condensate and e-liquid leakage with a top-airflow arrangement, that is fully adjustable and features 3 air inlets for balanced and smooth airflow. This, combined with the innovative heat-sink construction keeps your vape temperature consistent.
The Drag 4 is compatible with the entire range of VooPoo's acclaimed PnP mesh coils which feature Dual In One Tech, delivering a 25% increase in puffs - saving you money on coils and producing dense clouds with intense flavour. The smart GENE.TT 2.0 chip boasts instantaneous ignition, high boost and all the vaping modes you'd come to expect from a top-of-the-line bit of kit. On top of this is Eco Mode which lets you squeeze out those extra puffs from your battery. A generous colour display with smooth navigation and locking through one handy switch makes this a sub-ohm vape kit to brag about.
3. Mag-18 by SMOK
£42.95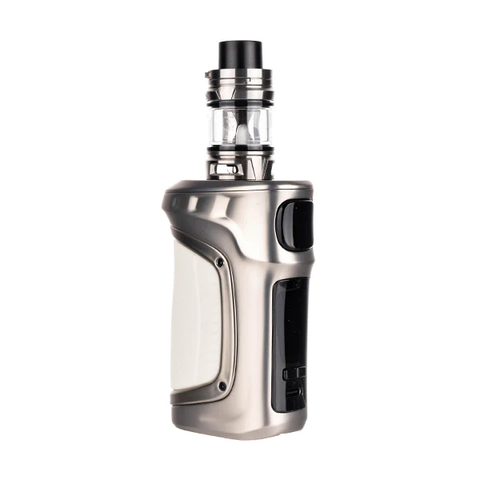 The Mag-18 is a beast of a sub-ohm kit capable of up to a whopping 230W of output. The super ergonomic design of the zinc-alloy shell is shaped to fit your hand perfectly with the fire button intuitively located for your thumb or forefinger and a comfortable leather grip. Paired with the mod is the TFV18 sub-ohm tank, a stainless steel and glass design with SMOK's famous sliding top-refill mouthpiece for hassle-free refilling.
The highly efficient IQ-X chipset features 8 built-in safety protections ranging from intelligent coil recognition which will auto-select your settings based on the resistance of your coil (handy if you're just starting out) to overheating and low battery warnings to name but a few.
A 0.96" TFT colour screen provides effortless navigation of the full range of power customisation options. This, coupled with the wide choice of TFV18 & TFV16 coils gives you endless options to get the kind of vape you desire. And with the adjustable triple airflow, you are going to be making some big clouds packed with flavour.
4. GEN PT60 by Vaporesso
£32.95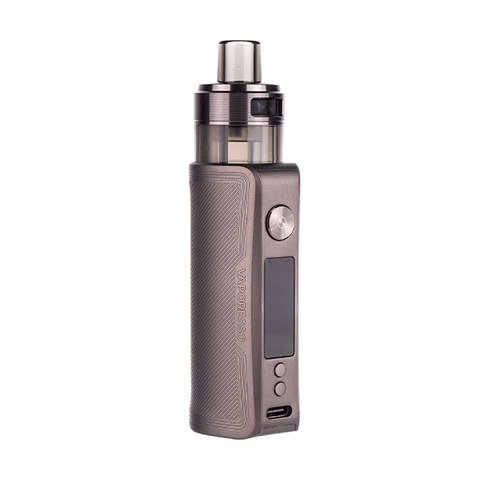 If you're in the market for something less bulky that still delivers on clouds and flavour then look no further than the GEN PT60. With a maximum output of 60W and a hassle-free built-in 2500mAh battery, this advanced vape kit delivers hours of sub-ohm vaping and can be slipped into your pocket. The kit uses the Vaporesso xTank which is a pod tank that features a leak-resistant design and a fully adjustable top airflow along with top refilling. The pod fits snugly into the device and is secured by magnetic connections.
The wide range of GTX coils delivers incredible flavour and features Morph-Mesh technology which ensures that the coil is heated evenly, prolonging the lifespan of the coil and delivering consistent flavour throughout the lifespan of the coil.
The intelligent chipset will recognise your coil and automatically set your wattage, or you can adjust yourself via the 0.91" OLED display and intuitive navigation. Type-C fast charging gets you back in the game in no time with this pocket-friendly cloud machine
5. Twister 2 by Freemax
£44.95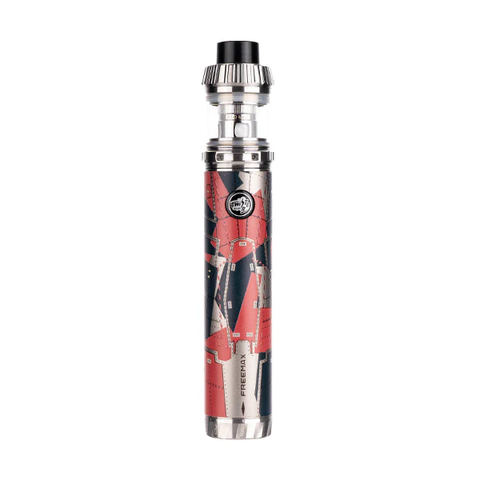 Pen-shaped sub-ohm kits are excellent if simplicity and portability are what you're after. The Twister 2 is a powerful 10-80W cloud machine with a built-in 3000mAh battery, single fire button and quick wattage adjustment. The Fireluke 4 tank features TX Double-D mesh coils that pump out dense clouds of amazing flavour, adjustable airflow and slide-to-open top refilling-so all the mod cons are there. The TX coil series offers a wide range of resistance options that can be vaped at different power settings, so get experimenting!
No need to spend your time navigating a display to get the settings you want, simply turn the dial at the base of the device for instant power shifting in increments of 10W. The wattage dial also functions as a locking mechanism, by simply rotating it to the 'lock' position, you've got no worries about misfires. The generous 3000mAh battery will comfortably deliver a day's worth of use while the Type-C charging cable provided will have you up and running in no time.