Everyone loves a good bargain, so if you are looking to buy the latest electronic devices at a low price, you might find yourself on unverified black market sites. In the UK, we have specific rules and regulations put together by Public Health England and other health and vaping professionals to ensure people are being as safe as possible.
We want to discourage people from getting their products from unverified sites and market places, and make sure you have all of the information you need to make sure you are safe and purchasing good quality devices that meet all regulations. In this Blog we will cover:
UK vaping laws
Black market products
Where to safely buy products
Illegal products
How we're helping
Our advice
What are the UK Vaping Laws
Tobacco and Related Products Regulations (TRPR) and The Tobacco Products and Nicotine Inhaling Products have set rules and regulations that were updated after BREXIT, to ensure safe regulations were still in place after exiting the EU, from where our former regulations were put in place by the EU.
The TRPR rules ensure:
·minimum standards for the safety and quality of all e-cigarettes and e-liquids
·that information is provided to consumers so that they can make informed choices
·an environment that protects children from starting to use these products.
The Requirements:
·Restricted e-cigarette tanks to a capacity of no more than 2ml
·Restricted maximum volume of nicotine-containing e-liquid for sale in one refill container to 10ml
·Restricted e-liquids to a nicotine strength of no more than 20mg/ml
·Nicotine-containing products or their packaging to be child-resistant and tamper evident
·Banned certain ingredients including colourings, caffeine and taurine
·New labelling requirements and warnings
·All e-cigarettes and e-liquids be notified to the MHRA before they can be sold
What Are Black Market Products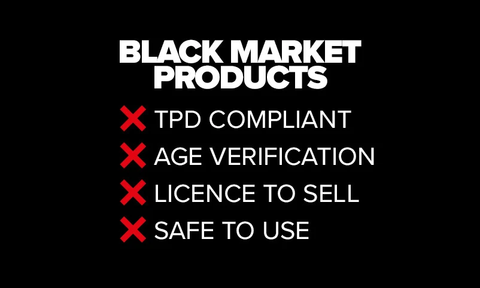 Black market products may be shipped into the UK from abroad meaning the UK regulations are not always safely met. Some markets or stores are selling 5ml tanks, although the UK regulations confirm 2ml capacity tanks should be the maximum amount, to restrict excessive use. In addition some places are selling Non-TPD compliant liquids. This means they are not the legal size, or may contain harmful restricted substances or an extremely high level of nicotine which can be dangerous and highly addictive.
These products are being sold under the radar, meaning the seller may not have a licence to sell the products and they are not being moderated.
The products being sold through these channels often do not have an age verification process, meaning underaged people and children could purchase these products.
It is also unlikely that the people selling these vaping devices will be knowledgeable about what they are selling, and may be unable to offer accurate recommendations or support.
What Vape Products Are Illegal
In addition to the regulations and laws mentioned above, under EU regulations vape juices containing diacetyl were banned in 2016. The maximum strength of nicotine permitted in vape juices is capped at 20mg/ml. The size of e-liquid containers with nicotine is capped at 10ml, and cartridges (pods) and clearomisers (e-cigarette tanks) can hold a maximum of 2ml.
It is also unlawful to sell shortfill e-liquids or high VG liquids usually 50-100ml that contain nicotine. These bottles usually come nicotine-free, and you can separately purchase and add flavourless nicotine shots that can make up a max of 6mg nicotine.
What We're Doing To Help
We recognise these black markets are not a respected part of the industry, but we are aware that they are part of the industry nonetheless. They represent a dark side of vaping. We think it's important to be aware and to make others aware of  negative areas within the industry and by not legitimising it, we are working to educate and inform people that are interested in vaping and we are working on creating a well informed vaping society.
We think it is crucial to be transparent about where we stand ethically and morally and do all we can to ensure we are acting responsibly and legally as a product provider.
This is why we also have a thorough and certified age verification process, to guarantee that we are selling our products to people of legal age. As well as other verifying processes to ensure we are acting ethically.
We strive to sell our products at affordable prices and that we have something for everyone so people feel happy about making their purchases with us, and feel confident about buying our products.