On the whole, new technology rarely impresses us. However, in those rare moments, something new catches our eye. For that matter, it appears as if this device could be among that fabled category.
Furthermore, in our experience, nothing compares to how easy they are to use. Besides, with so much power backing it up, how could it let anyone down? To us, it seems as if pigs could burn down barns before that came to pass.
Smok T-Storm Review: Looking at Things Conceptually
One must carefully consider each aspect of the product when they evaluate different members of the same category. Otherwise, before they finish, they'll have already formed an opinion.

Waiting until after we've tested them from all angles provides the time necessary.

By following those standards, you'll be the ones who benefit. Such objective reviews lend themselves to informed customers far more readily.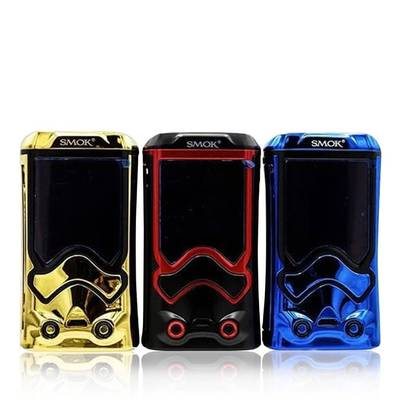 T-Storm 230W Box Mod - Smok
To begin, let's take a gander at it from a distance. Stepping back from these objects, shiny and new, lets us think a bit more clearly. Should you have found yourself in our shoes, we recommend doing the same.

So, compared to other devices, these proved to be a bit more powerful. Of course, when given sufficient time, finding something even stronger isn't impossible. Still, for the value, outdoing these should become a notable accomplishment.

Now, let's weave a tale about how it felt as we took our first hit.

Quivering with delight, we rose the device towards our face. Our lips inched forward, coated with sweat, anticipating such a delightful reward.

Once they made contact with them, such a magical transfusion transpired, filling the room with the light.

For but a moment, we held our breath.

Then, we exhaled.

In the end, as our breath return, nothing but flavors entered our minds. So, If you've been searching for something like that, these would be our top recommendation.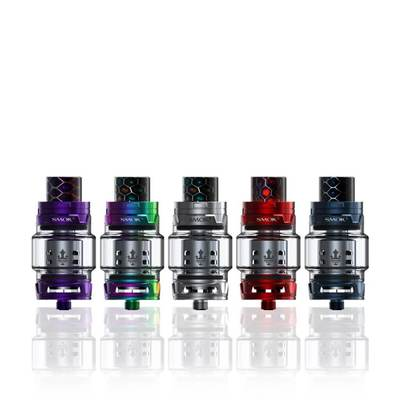 Product Specifications
·Dimensions 85.5mm x 48.4mm x 32.9mm:
Occasionally, such small devices want to stack up to their larger brethren. However, judging by appearances, these pack more of a punch than you would guess. So, for those who have been worrying, fear shouldn't be a concern. Instead, these powerful devices won't let you down.
·Dual 18650 Batteries:
Of course, despite not coming with a charger, these batteries tend to last a long time. Should you need to find a replacement, you'll have to find them someplace else. Fortunately, since they make them so durable, replacements shouldn't become a common occurrence.
1W - 230W:
At the moment, we'd reckon such a wide range would be about the largest in the industry. Searching for new alternatives couldn't yield much better results. With such a powerful platform, vaporizing juices won't be too much to ask.
Everything in the Box
·1 x T-Storm Mod By Smok
·1 x Instructional Manual
·1 x USB Cord
·1 x Set Of Spare Parts
How Does it Perform Fresh Out of Its Packaging?
After having tried as many as we have, forming a solid opinion is straightforward. The better a device performs right out of the box, the better it tends to perform in the long run.

That said, for us, these grew on us from the moment we first saw them. Now, with a few hours under our belts, those opinions haven't been moved by all that much. In fact, if anything, they've been strengthened.
Let's put you at the place where it all started.
Upon hearing of its arrival, we happened to find ourselves at the front door, planted firmly in one spot. As the mail truck made its way, a peculiar yearning welled up deep within, promising to burst forth at any moment.

Then, those fateful footsteps sounded on the drive.

It appeared as if the moment had arrived.

So, eagerly rushing for the box, we plowed through the entryway.

Now, with the prize in our hands, we'd have an opportunity to see how things would be in person. While the box slid across the tabletop, our eyes peeled wide-open, we began murmuring.

Those meager contents meant more to us than anything else. It seemed that our dreams had come true. Not only were all the pieces inside, but they were also all in working order. So, we rejoiced.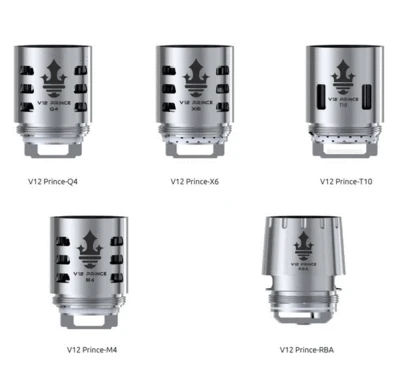 After Breaking These Things In, Do They Still Hold Up?
Moments ago, we had someone pounding on our door, begging for the same answer. So, since we just helped them out, it's at the top of our minds.

After opening up the next product, we kept using it as we would've with any other product. As such, by the end of the month, it had gone through the wringer. Still, despite so many miles, it would've been hard to show fewer signs of use.

Moreover, despite the defects, none of its performance showed any deficits. In such a manner, we found ourselves, castigated by time.

Surely, had we gone a little harder with it, those signs would've manifested. Yet, waiting for another month hardly produced results of any more significance.
Should Someone Wish to Change Juices, How Difficult Would That Be?
Now, if you've been sitting on those for a while, something better might have entered the picture. If so, then we would suggest taking one of those out for a test drive. By extending your horizons, such surprising things tend to come across your path.
Besides, with one of these, changing to those juices is quite simple.

The chambers open with a gentle tug. Then, if you look at the thing, you'll see an opening. In that spot, you'll plug those bottles. Afterward, let the juices flow.