Aspire Rhea X – The Rhea is Back!
Hey folks, how's it going? Jen here, back for another review, and this time taking a look at Aspire's newest kit on the market: the Rhea X Kit!
This kit was sent to me for the purpose of a review by Aspire, with my utmost gratitude!
So, we have seen the Rhea before from Aspire as a box mod that is shockproof. It was a beautiful combination of material, metal, and rubber for that rugged but ergonomic performance. With the Rhea X Kit though, the Rhea is re-imagined a little bit and released with the Huracan tank.
The most obvious difference between the two Rheas is the fact that the Rhea X mod runs via a single 18650 battery versus the dual 18650 Rhea. Hmmm so what other differences are there between the two Rheas? Let's find out!
As always, this review will be based on my experience of testing this kit as an average vaper, as most of you guys reading this review will be.
Packaging and Contents
I was sent the Aspire Rhea X Kit in sample packaging, which includes:
§Rhea X mod that uses an external 18650 battery.
§Huracan tank with a preinstalled bubbled glass (6mL capacity).
§Spare straight glass (4mL capacity).
§0.15 ohm BP Mesh coil.
§0.3 ohm BP Mesh coil.
§Spares like o-rings.
§A USB-C charging cable.
§User manual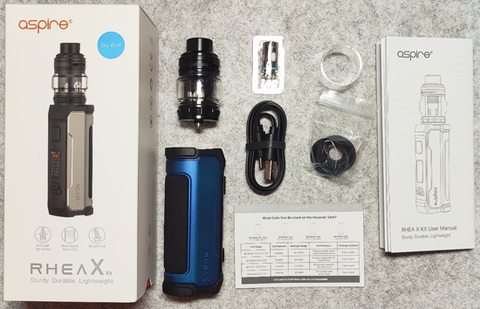 It's a pretty straightforward kit with everything you'll need to get started. And yes, this is unmistakably a sub-ohm kit!
Salient Features are:

§The Huracan Tank uses an established coil platform in the BP coils, which has been used in many Aspire devices like the BP60 Pod Kit.
§The tank employs top airflow, thereby minimising any chances of leaking.
§Mod ranges from 1W-100W in power using the ASP chipset.
§Said chipset has a comprehensive suite of operation modes such as wattage, TC, bypass, voltage, and CPS.
§Reads 0.08 ohm to 3.5 ohms.
§2A fast charging (I always recommend using external chargers).
§Mod has a 0.96" TFT colour screen with big fonts (versus the original Rhea screen that had, let's be honest, fonts that were way too small to read comfortably).
§Mod + Tank dimensions at 142 x 37 x 32 mm. I actually used a 28mm atty on this mod and it fits perfectly well without overhang, so major props to Aspire here for versatility!
Impressions and Experience
The Rhea X kit came in sample packaging, and in the classic Aspire format and colourway of white plus orange accents.
The kit packaging has a coloured photo of the device that is glossy and embossed. Kit features, package contents, manufacturer information and socials are printed on the outside packaging. The kit itself sits on a tabbed foam tray, with the kit accessories housed neatly on a plastic tray underneath.
On the whole, the kit feels very comfortable in the hand with the ergonomic shape of the mod and the materials used (Alcantara material and metal). What surprised me was that for a shockproof mod, the Rhea X is actually quite light! Of course, adding a 18650 battery into it will give it more weight, but most shockproof devices I've handled had always some weight to them due to the said feature. So, I was intrigued on how Aspire achieved a light, shockproof mod. Hmmm…
From a look's perspective, the mod has rugged features with a metal frame and rubberised protective material around it. Apart from light scratches, I wouldn't be worried about this mod breaking apart if I drop it, especially with how Aspire put it together.
Branding is relatively minimal on the mod with "Aspire" and "Rhea X" engraved towards the bottom of the metal case. On the atomiser, however, "Huracan" is printed in bold fonts on either side of the airflow ring. Now, I'm not a huge fan of this usually (I like little to no branding, let's put it that way), but since Aspire did match the colour of the print to the atty and thereby making it a tad subtle, I didn't mind it so much.
A. Huracan Tank and BP Mesh Coils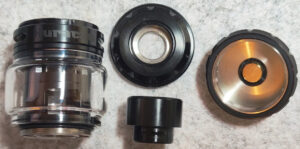 To be completely honest, the Huracan tank looks similar to other top airflow sub-ohm tanks in the market. It looks chunky and beefy especially with the bubble glass installed. It is made of stainless steel and is a top-fill tank where the top cap does a quarter turn to reveal the two massive fill holes on either side. There is some knurling on the top cap, but oddly enough, it wasn't placed where I'd naturally grip it to open/close. Nonetheless, I didn't have any issue filling or sealing the atomiser via the top cap.
It is compatible with standard 810 drip tips, and the stock drip tip is comfortable enough to use albeit it is on the tall and chunky side. My personal preference would have been a tapered low profile 810 drip tip; it would make the tank look a little different plus the vapour would travel a little less (for maximum flavour). But again, the stock drip tip presented no issue.
The coils press-fit into the tank, with the tank base that screws on and off the chamber. In terms of airflow, the airflow ring has full stops on either side and has two cyclops airflow holes. This is an airy atomiser for sure; I found myself cutting the airflow down to about half to get to my preferred vape experience and warmth.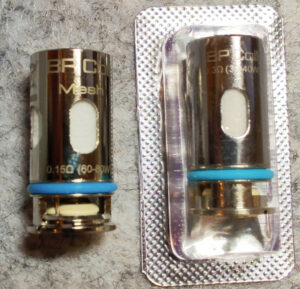 For the coils, I began with the 0.15 ohm BP Mesh Coil (60-80W) that gave off decent flavour (7/10) and didn't need any break-in period to perform. I did find myself cranking it up near to its limit, at 75W, to achieve the flavour + warmth combination I like for DL. It chucked off an adequate amount of clouds as well. Having used BP coils before though in pods, I was a little surprised by the amount of power it required to get to the warmth that I am used to from a BP coil. Is it because of the fact that it's now in a bigger sub-ohm tank versus a smaller pod? Probably, and so I suppose it's worth mentioning for vapers like me who've used BP coils before in pods.
The next coil to test is the 0.3 ohm BP Mesh Coil (30-40W). Similar to the 0.15-ohm mesh coil, I did use it at its limit at 40W and it did give pleasant flavour (7/10) and clouds. Being a coil of higher resistance, the vape was a little cooler comparatively, especially so as it is a mesh coil. Nonetheless, it still gave me a satisfying vape.
B. Rhea X Mod
The Rhea X Mod is, I suppose, the star of the show as far as this kit is concerned as it does come with bells and whistles. It is shockproof, but as mentioned before, is deceptively lighter than like mods in the market. Usually, shockproofing meant adding more material to the mod as protection.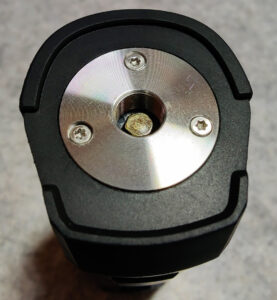 Its form factor and shape though are reminiscent, but not exactly the same as a very popular single 18650 tri-proof mod released a few years back. So, I think it will be natural if people start comparing the Rhea X to this mod. However, there are several factors that make the Rhea X stand out on its own (apart from its lightness and materials used) and we will go through them in the course of this review.
Starting from the top, the 510 plate is screwed on firmly with a contact that is spring-loaded. The external battery is installed through the bottom of the mod and via a vented battery cap that screws on and off. The cap threading is smooth, and the battery cap when screwed in is recessed into the rubberised mod base. And so, you will not have any stability or wobbling issues when the mod is upright. Battery polarities are also clearly marked inside the mod and that is always a pro in my book.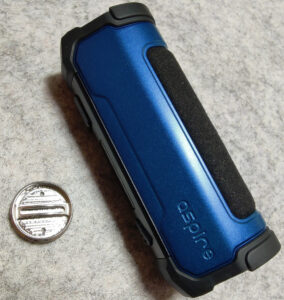 The USB-C port is located at the bottom of the mod, which whilst not ideal, did not present any issues to me during my testing. I should note here that the USB port is exposed, i.e., there's no rubber bung to cover it from spills or dust.The Alcantara material, which is like this hard-wearing fabric that feels like suede to the touch, is soft and squishy. It really makes the Rhea X mod very comfortable to hold and use.
The front of the mod has the fire, mode, and adjustment buttons. It also has a 0.96" TFT colour screen that displays vaping data like mode, wattage/temperature, volts, amps, ohms, puff counter, and battery life in bar and percentage which is always very useful. The screen is crisp and easy to read in low and high lighting situations.
Operating the mod is really quite straightforward, especially because of the mode button:
§5 clicks on and off.
§3 clicks lock and unlock all buttons.
§Pressing both up and down buttons simultaneously locks these buttons, but the mod can still fire.
§Pressing the mode button allows you to select the different modes.
§Press the fire button to confirm a selection.
§Pressing fire and down buttons adjust the screen brightness.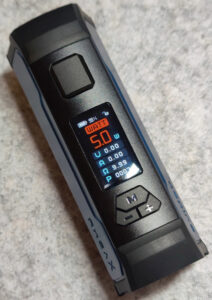 The Rhea X is a fast scroller that goes by 0.5-watt increments in short presses, and 1-watt increments for longer presses. It fires super quick and is very responsive. What's more is that even as a single 18650 mod, it does kick out up to 9V of output! And I did feel this during testing that the mod doesn't really hold back – even when used with a dual coil RTA at 80W. Of course, this does mean that I used a high discharge cell for this part of the test (and I highly recommend you do the same when vaping at high wattages).
Overall: Yay or Nay?
As a starter sub-ohm kit, you certainly cannot go wrong with the Rhea X kit! It performs very well and reliably and uses a proven coil platform that is easy enough to find in abundance. Experienced vapers will also like using this kit owing to the versatility of the mod. In fact, I am planning on pairing this mod with a favourite MTL RTA alongside the Huracan Tank! It offers plenty of vaping modes to meet any vaper's needs.
Sure, I am almost certain that a lot of vapers will comment that this should have been a 21700 mod. But that would have meant increasing the size and weight of the Rhea X, and I am not quite sure that would have fitted with what Aspire was trying to go for here.