Helping people quit smoking is what electronic cigarettes were created for to begin with, but some are better suited for that than others. In this post, we'll go over the top five best e-cigarettes that we believe can help smokers quit.
With so many different styles of vaping devices available these days, shopping for your first vape as a smoker looking to quit can be a challenging experience.
Anyone can hit the "buy" button on an online vape shop, but choosing  the product that works best for you is the tricky part. Getting something that's too complicated, or that doesn't work the way you were hoping can make the difference between a smoke-free lifestyle and yet another failed attempt to quit.
Everyone is different, we all have different tastes and preferences, but there are still a few conditions that a vaping device has to meet in order to be considered suitable for beginners: it has to be easy to use by someone who has never vaped before, relatively affordable, compact, and, most importantly, it has to be able to reproduce that tight draw on a tobacco cigarette as closely as possible.
Sure, there are plenty of vapers who enjoy that loose, direct lung draw, you know, the one that produces those impressive clouds of vapor. But few of those users actually started out with advanced vape mods; instead, they slowly worked their way up to those devices.
I myself started with cigalikes, then discovered the eGo and CE4 clearomizers, before moving on to mods and advanced sub-ohm atomizers. Had I started with sub-ohm vaping, the coughing alone would have probably made me give up vaping without even giving it a fair shot. So choosing the right type of vaping device is crucial.
So without further ado, here are the five best vapes to quit smoking with:
No. 5 – Suorin Air
A few years back, when I first got to test the Suorin Air, and virtually no one had even heard of the Suorin brand, I had no idea that this credit card-shaped pod system would become as popular as it has. The sleek design did set it apart from everything else available at the time, but ultimately it was the performance that made it such a huge hit.
The Suorin Air design made it appealing to both made and female vapers, which proved to be a massive advantage, but it also drew in a lot of smokers looking to quit, thanks to its super tight, cigarette-like draw. It's something that's super hard to find nowadays, when most manufacturers are more interested in making their devices produce as much vapor as possible.
Although the Suorin Air is still one of the best-selling vape pods on the market, a testament to its long-term success, it does have a significant shortcoming worth mentioning. It features a small built-in battery (400mAh), but that's just the price you pay for such a slim and lightweight device.
No. 4 – SMOK Novo 2
For years now, SMOK has been one of the most prolific vape manufacturers in the world, churning out vaping device after vaping device, so it's not surprise that one of its products ended up on this list. The Novo 2 pod system built on the success of the original SMOK Novo, and remains one of the most popular devices for beginners.
The SMOK Novo 2 is one of the most compact vape pods on this list, measuring just 88.3mm x 24.3mm x 14.3mm, but has double the battery capacity of its predecessor, an impressive 800mAh, so you'll definitely not be complaining about running out of battery too fast. It also comes with high resistance built-in coils designed for a tight mouth-to-lung vape.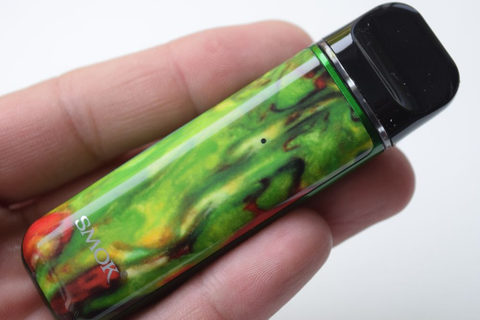 My only gripe with the SMOK Novo 2 was that despite its excellent refillable pods, it had too loose of a draw that didn't really fit the type of coils it was offering. Still, if a slightly looser draw than the other devices on this list isn't that big of a deal, the Novo 2 is a very solid pod system to quit smoking with.
No. 3 – Vladdin RE
The original Vladdin was designed as a competitor for the ultra-popular JUUL pod system, and while it did build a decent following among causal vapers, it never managed to challenge the supremacy of the world's best selling vape pod. That said, the Vladdin RE remains one of the best vaping devices for beginners.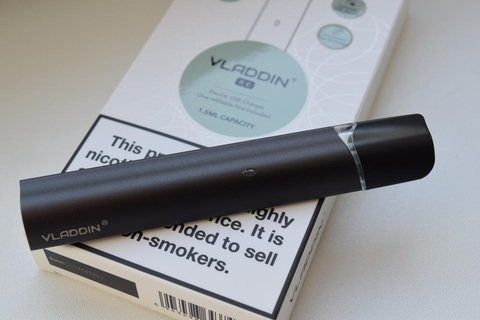 Featuring a slick, pen-like design reminiscent of the JUUL, the Vladdin RE is one of the most simplistic devices on this list. It's basically a draw-activated battery with a rudimentary cartridge attached to it, but that is actually one of its main qualities. It's so easy to use that anyone could basically pick this up and start using it like they would a tobacco cigarette.
The elegant design, the ease of use, they are all very nice, but at the end of the day, the Vladdin RE is on this list because it manages to replicate the draw of an analog cigarette very well, and that's very important for a smoker trying to quit. The only downside of this device is that the resistance tends to get flooded every once in a while, but that sometimes happens with e-cigs, so it's not an issue with the Vladdin alone.
No. 2 – Renova Zero
I will come right out and say that the Renova Zero has been my favorite pod system for a long time now. I've tested dozens of e-cigarettes and vape pods over the last couple of years, but nothing has been able to top this little guy. It just has the perfect draw restriction, multiple wattage output settings and a large-enough batteries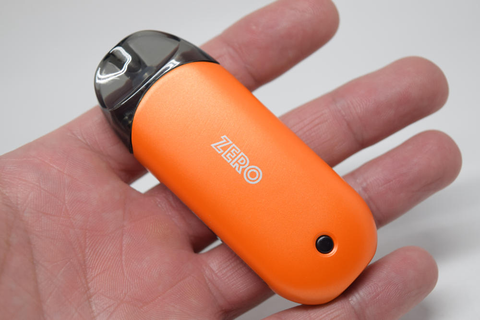 The Renova brand was completely unknown when the Zero was launched, and it took a while for people to learn that it was affiliated with Vaporesso, but that didn't affect the success of the device one bit. Anyone who tried it, liked it, and before long, the Renova Zero became one of the best vape pods on the market, a distinction it still holds, in my opinion.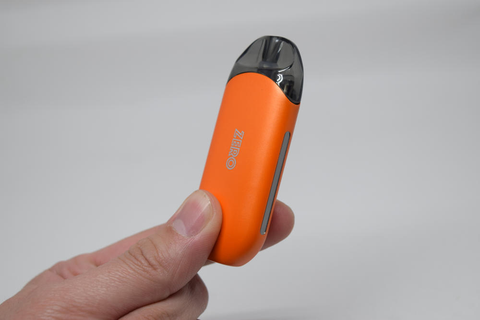 Featuring a perfectly balanced draw (even without adjustable airflow control), an innovative fill port that prevented leaking, above average battery life, and multiple power output levels, the Renova Zero was one of the first advanced vape pods ever made, and it remains a solid choice for beginners.
No. 1 – Vaporesso Xros
When I received the Xros pod system for review, I honestly wasn't expecting anything but yet another vape one, the kind I had already tried dozens before. But this seemingly bland device managed to impress me from the moment I discovered its ingenious built-in airflow adjustment system.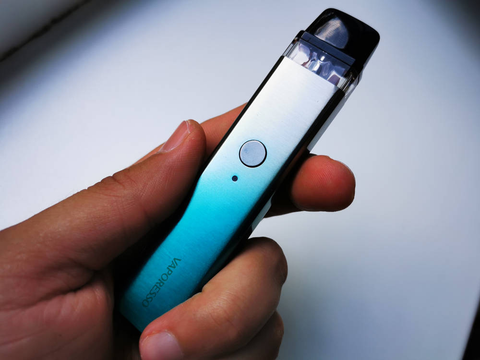 None of the other vape pods included on this list comes with adjustable airflow control, and that alone makes thee Xros e-cigarette superior, by allowing a higher degree of experimentation. You can do tight mouth-to-lung (MTL) draws, similar to sucking on a tobacco cigarette, or you can try a looser vape, all by sliding a small know from one side to the other.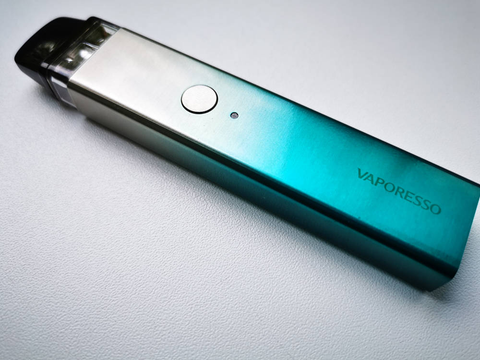 But the Vaporesso Xros isn't the world's only adjustable airflow vaping device. What makes it better for beginners is that it's much easier to use than other devices I've tried. You don't need to change your coil-heads, there are no settings to fiddle with, you just fill the pod with e-liquid, adjust the airflow to your liking and you're good to go.
I honestly can't think of a better e-cigarette for beginners than the Vaporesso Xros, but then again I haven't tried all the vaping devices ever made. I can only speak on the products I've used so far.