Voopoo Argus P1 Pod Kit Review – Simple But Effective!
Been a while, vape fam! I am back once again, this time to share with you all the latest and greatest kit from Voopoo: the Argus P1! This kit was sent to me for review from Voopoo (thank you!).
So, another day, another Argus! But this one does have a different look to it as compared to other kits in Voopoo's Argus line. You may recall that Voopoo did release the Argus Pod a few months back (review available on the blog), but the Argus P1's look is wildly different from that, and we shall go over the device's aesthetics in this review. One great thing off the bat though is the Argus P1's use of the Argus Pod Cartridge, which means it is compatible with those released with the Argus Pod. Really love how Voopoo makes products that are backwards-compatible!
As always, my review will be from my own experience of using the device as a regular vaper, as most of you vapers buying this device will be.
Packaging and Contents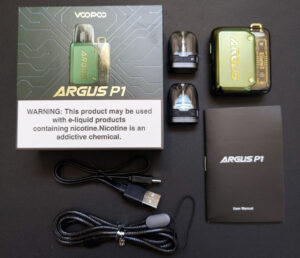 I was sent a sample pack that included:
§The Argus P1 device/mod.
§2 refillable pod cartridges with 2 mL capacity; one having a 0.7-ohm coil, and the other having a 1.2 ohms coil. Both have fixed coils, which means that the pods are meant to be discarded once the coils reach their end of life.
§USB-C cable.
§User Manual.
§Lanyard – you gotta have that lanyard!
Salient Features include:
§The device has an 800 mAh battery.
§Kit (with pod attached) dimensions at around 77 x 47 x 17 mm. The mod itself is squarish in shape.
§Reads 0.5-3.0 ohms of resistance.
§Generates 5-20W in power that auto-adjusts via its GENE.AI 1.2 chipset.
§With an output voltage of 3.2-4.2 V.
§Uses Voopoo's ITO atomisation technology for its coils.
§The kit's USP is that it charges so darn quick via its 15W PD fast charging! It recharges from 0-100% in 18 minutes which is extraordinary!
§Auto-draw.
§Airflow control.
§And of course, has the standard protections we are familiar with.
Per Voopoo's website, this kit is released with 2 pod/cartridge versions: the refillable ones with fixed coils that came with my sample unit, and it looks like there is (will be?) a pod cartridge version with replaceable coils. Unfortunately, I am not able to comment on the latter on this review as I did not receive them, but the fact that it will be/is out there, is another great step forward by Voopoo in giving vapers more options!
Impressions and Experience
The kit packaging that I received is that of a black box with reflective green lines in a pattern reminiscent of what you see on a circuit board. Quite futuristic I thought! This box has a coloured photo of the kit in front; and with kit contents, features, Voopoo's socials, and standard warning language is written around. An inner box slides out, housing a kit accessories pack which is sat on a plastic tray that cradles the kit securely. Overall, a compact and stylish presentation!
As I mentioned in my intro, the Argus P1 is quite unique-looking, when you take into account the other kits in the Argus line (more about this in the following section). The square mod, with its finish and aesthetics, combines very nicely with the ever-so-slightly-tinted pod.
A. Argus P1 Device/Battery/Mod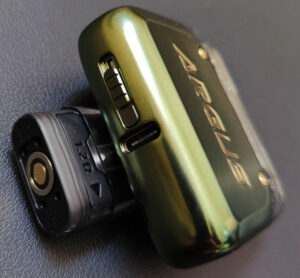 The kit fits inside the palm quite nicely, and its slim form factor makes it very portable. It doesn't weigh a lot; however, it is heavier than other pods on the market which are mostly made of plastic. The weight is from the fusion of metal and plastic that comprises the device's shell. The metal portion is smooth, rounded, and although shiny, doesn't attract fingerprint smudges! It's on this metal surface that Voopoo's distinct branding mainly shows through, with "ARGUS" being present in big, golden lettering.
The plastic portion is for a purpose, as it finishes off the shell whilst also visibly exposing the circuitry underneath. Now, the transparent pod shell trend isn't a new thing (I've seen a few manufacturers release their versions of it), but Voopoo employed the material in such a way that it complements the overall look. I have to say that the exposed circuitry and GENE chip look really adds to the futuristic tone of this kit!
The top portion of the device has the pod cradle, the contacts for the coil, magnet contacts, as well as the auto-draw switch. It also has a gold loop that sticks out so that you can hook the device to your lanyard. The USB-C port is on its side, along with the airflow control slider which has the right amount of tension when adjusted to stay in place.
The airflow I was able to get with this kit and its control system was anywhere between a tight MTL and a tight RDL. It's a good thing because that's quite a wide range of vaping styles that can be catered to, especially when used with different coils/pods.
Operating the device is so simple – just pull and puff away! And this system works very well as, with all Voopoo GENE-chipped devices I have used, the device fires so quickly and is very responsive!
I mentioned an unbelievable charging stat in the Salient Features section of this review, and of course, I tested this out. I am so pleased to report that my device charged very quickly from low power – in less than 15 minutes (I usually charge from low power, not when the battery is completely flat) which is truly amazing! Unlike other "FC" devices on the market, you don't need a special PD plug or another after-market accessory just to achieve the manufacturer's claimed charge time. I just used the supplied USB-C cable, plugged it into a laptop USB port, and the device charged as expected. Absolutely brilliant here from Voopoo!
Now, remember the plastic portion of the shell I mentioned earlier? It will not be evident until you start using or charging the device, but there are actually what looks to be four white LED light bars, concealed inside the mod! These lights are adequately bright and just contribute to the device's overall fabulous look. These LED bars light up as you take a puff to indicate operation and remaining battery life (<25%, 25-50%, 51-75%, 76-100% in the increasing number of bars). When charging, all four bars will light up too when the battery is full.
B. Cartridges/Pods
These are the exact same pods that came with the Argus Pod, and you can refer to the review of that kit on this blog for detailed information. In a nutshell:
§Made from PCTG.
§Very easy to see e-liquid levels despite being lightly tinted.
§Has a duckbill mouthpiece that narrows and thins towards the top, and is very comfortable to use.
§Generously-sized side fill hole, found towards the bottom of the pod, sealed by a rubber bung.
§4 small airflow holes at its base, directing the air towards the bottom of the installed coil and upwards.
§No leaks or condensations; it is indeed leak-proof!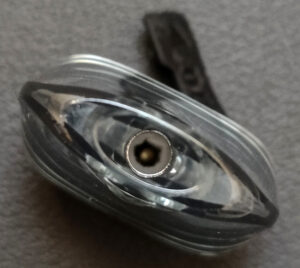 Both pods performed exactly the same as the Argus Pod. The 0.7-ohm cartridge gave great flavour (7.5/10) and a warm vape, which is my preference in MTL. I had the airflow slider exposing just about a millimetre-wide hole to achieve the draw I wanted.
The 1.2 ohms cartridge is for a tighter MTL. I had a little more of the airflow hole exposed for my preferred MTL draw, for decent flavour (7/10) and a warm enough vape.
Overall: Yay or Nay?
An unquestionable Yay again from yours truly for the Argus P1 Kit! It looks phenomenal and stylish, sure to suit vaper preferences. It's also very small and light enough, making it convenient to carry around. And most of all, it doesn't require you to wait for too long to recharge and vape again with its uber-fast PD charging feature!
With great flavour and performance, along with its simple operation, it's a highly recommended kit for new vapers or even as a backup kit for the more experienced.
Once again, thanks to Voopoo for allowing me to test the Argus P1 Pod Kit!