Continuously pushing forward with innovative products, vape manufacturers are always looking for ways to enhance your vaping experience, and that often involves creating and developing new devices and hardware. In the beginning, it was e-cigarettes (cig-a-likes), then came about mods, the next device was advanced vape mods, and its latest breakthrough was vape pods. With a new type of device available, you may be wondering what it is, how it works, and why choosing a pod over a mod is the most suitable route for you to take. We answer all of that and more in this beginner's guide to vape pods.
BEGINNERS GUIDE TO VAPE PODS
Due to the incredible success that we've seen with vape pods and a constant flow of smokers transitioning to vaping devices, we feel that it is necessary to continue to inform our customers and viewers. As always, we believe information is key to success no matter what you're doing, so we hope this article helps inform you enough that you make smart buying decisions before purchasing products at West Coast Vape Supply. With this knowledge, you are more informed and can choose the vaping device that is most suitable for your needs.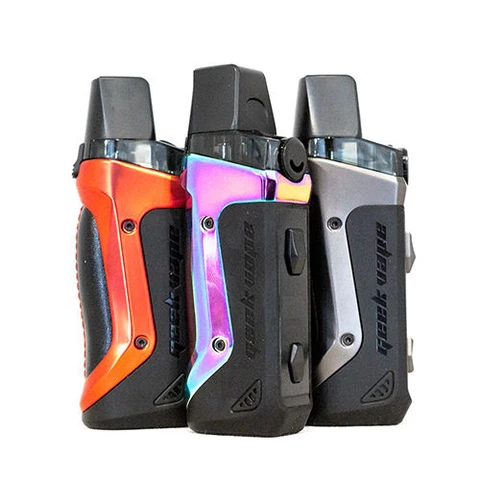 WHAT IS A VAPE POD?
A vape pod essentially works just like any other vaping device. However, it often sports a compact design and a pod cartridge that houses vape juice. This pod sits on top of the device and usually combines as a mouthpiece as well. A vape pod sits perfectly in the middle of a traditional e-cig and an advanced vape mod, providing the best of both worlds, such as being super convenient, portable, and affordable, while still delivering advanced functionality and high-performance capabilities. Everything about a vape pod is easier and presents a hassle-free experience. Coils are easy to change, pods can be easily refilled, and so much more.
HOW IS A VAPE POD MADE?
A vape pod is made similar to other vaping devices. There are two different types of vape pods, which includes an open system and a closed system (more on this below). The open system often comes in two parts, which consists of the pod and the body, which could contain a built-in battery or a battery compartment to insert your own vape battery. The open system, on the other hand, is one single device.
OPEN SYSTEM VS. CLOSED SYSTEM
The big difference between an open system and a closed system is that the open system will allow you to manually refill the device. This means you can fill the device with your favorite vape juice. A closed system does not allow you to fill the device with your own vape juice, and instead comes pre-filled with vape juice.
BENEFITS OF A VAPE POD
There are many benefits when it comes to using a vape pod. From its portability to its convenience to its performance, there is a lot to be had from such a small vaping device. To give you some benefits that should help persuade you to put down the mod and pick up the pod, we've created this quick list.
·Vape Pods Are Extremely Affordable: Most vape pods won't even pass the $50 mark. There are many advanced vape pods that cost between $30-$40.
·Vape Pods May Be Small But They Perform Like A Big Mod: Vape pods of today offer a range of features and power that are identical to more expensive vape mods.
·Vape Pods Are Super Discreet: These devices were designed in a way that will allow you to easily stow them away when not in use. They're incredibly small and compact.
·Vape Pods Are Super Convenient: Changing coils, refilling pods with vape juice, and making adjustments has been made incredibly easy to deliver a hassle-free experience.
·Vape Pods Are Very Versatile: These compact devices were also made to allow for regular and nicotine salt vape juice, along with mouth-to-lung and direct-lung vaping.